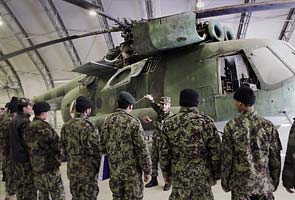 Kabul:
Twenty years ago, Afghan Air Force pilot Major Abdul Aziz was streaking across the sky in the Soviet Union's deadliest fighter-bomber.
His task now is less dramatic or flamboyant, yet perhaps even more important, helping build and train a new skilled air force that can keep the planes in the air after Western mentors go home.
The challenge of forging a modern, technically proficient air force in a country at war is immense, but a fully operational Afghan Air Force is an essential element in the West's exit strategy.
The target date for having an Afghan Air Force able to stand on its own feet, with about 8,000 trained personnel and 145 aircraft, is 2016.
When the corps was reformed in 2005, it had to start from scratch.
Thousands of different specialists - including crew chiefs, engine and airframe technicians, avionics and communications experts, loadmasters and air base fire-fighters - all had to be recruited and trained.
"Besides the fact that I loved being a pilot, I also chose to become an instructor because I wanted to serve my country," said Maj. Aziz, who swapped the cockpit of an attack jet for a classroom.
"We need to have more of these courses in future," Aziz added.
"I believe that our own trainers in future can do their jobs without the help of our foreign advisers and supervisors. Using their past and present experience they can carry on with training very well in future."
Afghanistan's air force dates back to the 1920s, and reached its zenith during the 1980s Soviet occupation with nearly 500 fighter planes and bombers, transport aircraft and helicopter gunships.
But it became little more than a scrap heap, left to decay by the Taliban during the civil war that followed the Soviet withdrawal in 1989, and then destroyed on the ground by US bombing in 2001.
The search for the right personnel is the major challenge in developing the service.
But Colonel Michael T Needham, commander of the 738th Air Expeditionary Advisory Squadron believes that an independent Afghan Air Force can be created through the right education process.
"We go by the motto of independence through education," he said.
The unit's American, Canadian, Jordanian and Portuguese instructors are assisting, training and advising the 230 Afghan staff of the aviation college at Kabul airport who must impart all aspects of general, as well as military, education.
"The goal is really to get them to a point where the mentors are not necessary, we would like to work ourselves out of a job, so that we can hand everything over," he added.
The war against the resurgent Taliban has relied heavily on allied air forces to transport infantry units to remote outposts, keep them supplied in battle and provide close air support.
Missiles fired from drones and exploding roadside bombs may get the media attention, but in a mountainous country with few roads, this has largely been a helicopter war.
Planners therefore expect that the combination of transport and helicopter gunships, and eventually fixed-wing close support aircraft, will allow the government's security forces to conduct independent operations after 2014 when the rapidly expanding Afghan police and army are to take over from the US-led international force.
Allied nations have already supplied refurbished Italian-built C-27A tactical transports, Mi-35 helicopter gunships and Mi-17 transport choppers.
Aside from the attack helicopters, the only dedicated close air support aircraft will be about two dozen A-29 Super Tucano counterinsurgency turboprops.
"We are happy to receive the new planes and helicopters, some are already here and some might be coming in future, so that our Air Force stands on its own feet in order to help our infantry forces on the ground on time," said Afghan Air Force University instructor, Din Mohammad.
One problem facing the Afghan Air Force is annual attrition rate of nearly 20 percent.
While not as bad as the rate at which troops are deserting the Afghan Army, this makes it difficult to retain a cadre of trained and experienced personnel.
An indication of how quickly things can go wrong, an Afghan military pilot opened fire after an argument last April at Kabul airport, killing eight US trainers and advisers and an American civilian contractor.