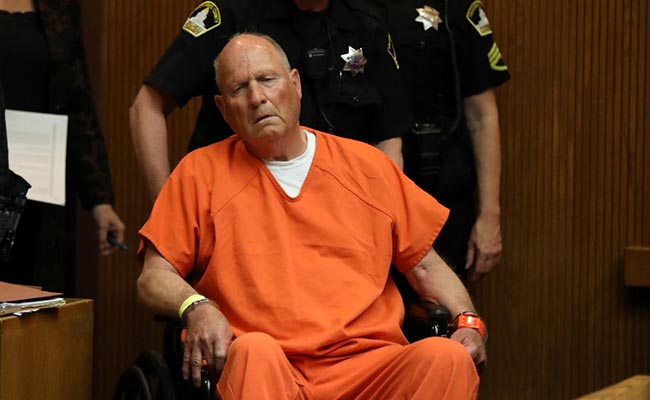 Sacramento, United States:
Handcuffed to a wheelchair and appearing frail, the former California policeman accused of being the notorious "
Golden State Killer
" appeared in court on Friday and was charged with two counts of murder.
Joseph James DeAngelo, 72, who was arrested on Tuesday after a 40-year manhunt, did not enter a plea to the charges at the brief arraignment in a Sacramento court.
DeAngelo was charged with the February 2, 1978 murders of Brian and Katie Maggiore, a newlywed couple who were shot dead in Rancho Cordova, a Sacramento suburb, while walking their dog.
DeAngelo had both wrists handcuffed to a wheelchair and was wearing an orange jumpsuit as he made his first court appearance since his arrest.
The balding, unshaven alleged serial killer appeared weak and struggled to answer the judge's questions.
Asked if he had a lawyer, DeAngelo replied in a raspy voice: "I have a lawyer." A public defender has been appointed to represent DeAngelo.
DeAngelo's next court appearance was set for May.
Besides the Maggiore killings, DeAngelo is a suspect in 10 other murders committed in central, northern and southern California between 1976 and 1986, according to the authorities.
In addition to the murders, the Golden State Killer has been linked by DNA or other evidence to more than 50 rapes and 150 burglaries.
DeAngelo was arrested on Tuesday after investigators tracked him down using a genealogy database and DNA left at crime scenes.
Crime spree sparked terror
The decade-long crime spree of sadistic rapes and murders by the man known as the Golden State Killer sparked terror over much of California.
They began in the summer of 1976 and ended abruptly in 1986 with the rape and murder of an 18-year-old girl.
Along the way, the meticulous masked assailant was given a number of nicknames: the East Area Rapist, the Original Nightstalker, the Golden State Killer...
DeAngelo appears to have spent most of his life in and around Sacramento, the California state capital, apart from a stint in the US Navy during the Vietnam War.
He went to high school in Sacramento and obtained a bachelor's degree in criminal justice from Sacramento State after serving in the navy, according to the Sacramento Bee newspaper.
DeAngelo served as a policeman from 1973 to 1976 in the town of Exeter, south of Sacramento.
Exeter is near the town of Visalia, and DeAngelo is suspected of being the "Visalia Ransacker" who was burglarizing homes in the area.
From 1976 to 1979, DeAngelo worked for the police department in Auburn, California, until he was fired for shoplifting a hammer and a can of dog repellent.
According to the Sacramento Bee, DeAngelo retired last year after working since 1989 as a truck mechanic at a warehouse for a grocery store chain.
For more than 20 years, DeAngelo lived in Citrus Heights, about 20 miles (32 kilometers) northwest of Sacramento.
According to the Bee, DeAngelo was married in 1973 and has adult children.
Investigators caught him by comparing DNA from crime scenes to profiles available on genealogical websites.
Investigators were able to find DNA matches with "third, fourth and fifth cousins and more distant than that," forensic criminologist Paul Holes told the Los Angeles Times.
They were even able to track the suspect's lineage back to "great-great-great-grandparents in the early 1800s," said Holes, who spent years investigating the case.
The next task, which began at the start of 2018, was to work down the family tree searching for suspect.
DeAngelo was not initially the main suspect, and came under the investigator's attention around six weeks ago, Holes told the newspaper.
(This story has not been edited by NDTV staff and is auto-generated from a syndicated feed.)