The Japan Sumo Association apologized Thursday after a sumo judge ordered women, including a physician, out of the ring while trying to administer first aid to the mayor after he collapsed - because women are considered "ritually unclean" in the sport.
Video of the incident, in which an announcer repeatedly asked over the speaker system for the women to leave the ring, went viral in Japan on Thursday. It is the latest case clearly illustrating the challenges that women face in achieving equality in Japan.
In another incident that exploded on social media this week, a 26-year-old woman who worked at a child-care center apologized for getting pregnant out of turn. Her employer had drawn up a schedule based on seniority, which stipulated that the she could only have a baby when she turned 35.
Japanese prime minister Shinzo Abe has been promoting "womenomics"- encouraging greater participation of women in the Japanese economy - but they face discrimination and logistical hurdles every step of the way.
"Japan wants to meet global standards but at the same time there are these traditions and these gendered spheres," said Chelsea Szendi Schieder, an expert on gender in Japan who teaches at Aoyama Gakuin University in Tokyo. "Things are changing for women in Japan but it feels like one hand gives and the other takes away."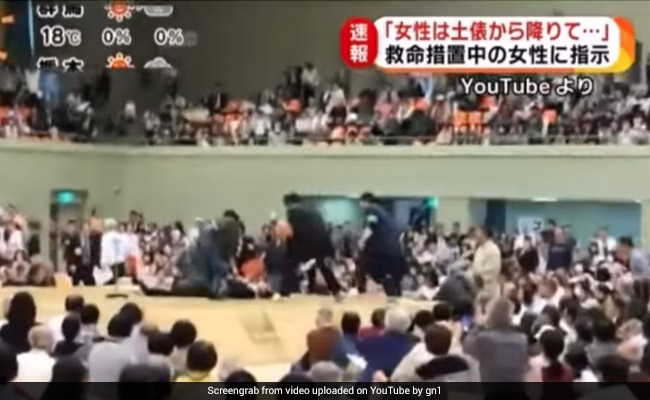 In the case of the women in the sumo ring, the 67-year-old mayor of Maizuru, a city northwest of Kyoto, was giving a speech from the ring when he suddenly collapsed. Officials went to help the mayor, Ryozo Tatami, who was clearly have difficulties.
Then a woman rushed into the ring, and apparently told the men that she was a doctor because they can be seen making way for her. She then started performing CPR on the mayor, while several other women also came up to help. The whole time they were working to save the mayor, a judge from the Japan Sumo Association was saying over and over on the public address system: "Please could the women leave the ring."
Eventually (male) firefighters arrived with a defibrillator and entered the ring.
According to the Shinto traditions of the male-only sport of sumo, the ring is a sacred area that "unclean" women are forbidden from entering.
The head of the sumo association, Nobuyoshi Hakkaku, apologized Thursday to try to quell the uproar.
"The judge was upset and made the announcement, but it was an inappropriate response because the situation could have been life-threatening," he said in a statement that suggested the response would have been appropriate in other circumstances.
"I am deeply sorry," Hakkaku said, thanking the women who provided first aid treatment.
The mayor had suffered from a subarachnoid hemorrhage, when there is bleeding in the space between the brain and the surrounding membrane. Untreated, a subarachnoid hemorrhage can lead to permanent brain damage or death, according to the Mayo Clinic.
The mayor was taken to a hospital and underwent surgery to stop the bleeding, according to local reports.
Japanese people took to Twitter to express their outrage over the turn of events.
"One word from a medical professional," said a fourth-year nursing student. "If you tell someone trying to save life to 'get out,' that's as good as leaving someone to die. Plus, how immediately you perform CPR determines whether the person lives. Women are forbidden from the ring? Isn't life more important?"
Another Twitter commentator noted that it was the women who had acted properly here.
"How were you all born? Not from a woman called a mother?" wrote Toshi Goryokaku. "I want the Sumo Association to teach the importance of life."
The Asahi Shimbun, one of Japan's biggest newspapers, cited people who were at the match as saying that officials threw lots of salt into the ring after the incident. Salt is thrown onto the ring as a part of a purification ritual, but sumo association officials denied that it was because women had been there, the Asahi reported on Thursday.
Schieder hoped that the incident would serve as a catalyst for change.
"There are so many traditions and ideas in Japan about how women can behave and what worlds they can enter," she said, from whether a woman can inherit the imperial throne (no) to whether they can make sushi (occasionally, as a gimmick.)
"Traditions are made by people and they need to serve people, so if this brings about some kind of reckoning about how we can help traditions meet contemporary expectations, that would be a good thing," Schieder said.
The women-in-the-ring brouhaha is the latest blow to the ancient and highly ceremonial sport, which has been wrestling with match-fixing and betting scandals, as well as several high-profile incidents of bad behavior.
A sumo grand champion, a 33-year-old Mongolian wrestler called Harumafuji, apologized and retired at the end of last year after being found guilty of assaulting a younger wrestler by hitting him over the head with a remote control in a karaoke room during a night of drinking.
Harumafuji was reportedly enraged that the younger wrestler, also Mongolian, was checking his phone while the grand champion, or yokozuna, was speaking to him. The younger wrestler was admitted to hospital with a fractured skull.
Then, earlier this year, a 26-year-old Egyptian wrestler, Osunaarashi, was forced to retire from the sport after being caught driving without a license and then being involved in a traffic accident.
Japan's national sport was already struggling to compete with baseball, a hugely popular sport here, for viewers. It has also been struggling to attract new participants to the notoriously rigid sumo lifestyle, where aspiring wrestlers must give up school at 15 and live in a communal "stable" where everything from their hairstyle to their diet is regimented.
Mongolians have come to dominate the sport, along with Hawaiians and other Pacific Islanders.
(This story has not been edited by NDTV staff and is auto-generated from a syndicated feed.)
Get Breaking news, live coverage, and Latest News from India and around the world on NDTV.com. Catch all the Live TV action on NDTV 24x7 and NDTV India. Like us on Facebook or follow us on Twitter and Instagram for latest news and live news updates.