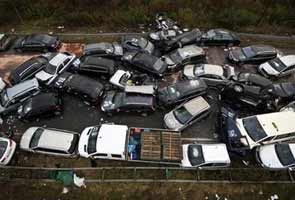 Berlin:
Police say a 52-vehicle pileup on a highway in northwestern Germany has left three people dead and 35 injured.
The accident happened on Friday evening on the A31 autobahn near the town of Gronau on the border with the Netherlands.
The weather was foggy at the time but it wasn't immediately clear what triggered the pileup on the high speed motorway which has no general speed limit, but the advisory speed limit of 130 kilometers per hour.
Police said Saturday that 14 people were taken to nearby hospitals. Twenty-one people had only light injuries.