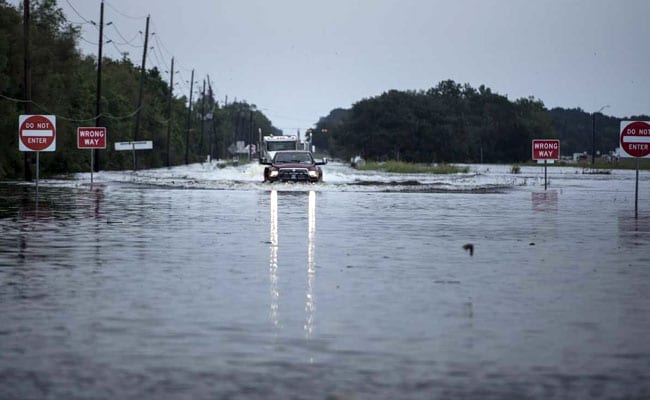 Crosby, Texas:
The operators of a chemical plant left without power by floodwaters said Thursday that two explosions rocked the facility and warned that more blasts could occur as rising temperatures make the compounds inside volatile and dangerous.
"A threat of additional explosion remains," said a statement from Arkema, the French chemicals group that runs the plant in Crosby, Texas, which was under about six feet of water from the relentless rains unleashed by Harvey.
The company urged residents to stay clear of a temporary evacuation zone set up Wednesday. The risks also appear to extend beyond explosions, as noxious fumes left at least one police deputy in need of medical treatment.
One deputy was taken to a hospital after inhaling fumes from the plant, and nine others sought medical care as a precaution, according to a tweet by the Harris Country Sheriff's Office.
The conditions of the deputy was not immediately known. The plant manufactures organic peroxides, a family of compounds used in everything from pharmaceuticals to construction materials such as counter tops and pipes. But the material must remain cold otherwise it can combust.
The facility's coolant system and inundated backup power generators have failed, according to the company. The plant lost primary power and then two sources of emergency backup power, said Richard Rowe, chief executive of Arkema's North American unit.
Local media reported a mandatory evacuation zone was established for a 1.5-mile radius as the last workers attempted to resolve the problem. Police cruisers and SUVs sealed off access to the Crosby plant on Highway 90, which connects Houston and Beaumont. Parts of the highway nearby were underwater.
"We have lost critical refrigeration of the materials on site that could now explode and cause a subsequent intense fire," Rowe said. "The high water and lack of power leave us with no way to prevent it."
A continuous flow of trucks, many hauling boats to participate in flood rescue efforts, approached the police barricade near the facility Wednesday afternoon only to be turned away as Crosby Volunteer Fire Department trucks crisscrossed the highway cut-through roads.
James and Deborah Hyer sat frustrated in a white pickup truck with a plant water tower in view. They were waiting with their three young children for the police to clear out so they could return to their home in Dayton, about 10 miles north of the barricade.
They were out of milk and water, with local stores either closed or cleaned out of supplies.
Their newly purchased double-wide trailer on top of a hill escaped much of the floodwaters, Deborah Hyer said, but some of their friends living at the bottom experienced complete devastation.
"They lost everything," she said. One friend of hers, a single mother of five children, lived in a house on 17-foot stilts, but the water rose so high she had to evacuate, she said.
In tiny Kenefick to the northeast, neighborhoods built on the floodplains and banks of the Trinity River were destroyed, and relatives of friends who tried to evacuate were still missing.
As in other areas like Houston and its western suburb of Katy, residents remarked on the quick response of volunteers with fishing boats fanning out as self-deputized rescue units.
"Some authorities are helping, but civilians like the Cajun Navy are helping the most," James Hyer said.
A Crosby Volunteer Fire Department truck with flashing lights stopped as another man flagged him down to get updates on alternate routes to Dayton.
"We have nowhere to go," James Hyer pleaded to the firefighter.
"I'd go away from here," the firefighter responded, though he conceded he did not know which nearby back roads were flooded or, like Highway 90, sealed by police. The Hyer family, resigned, turned around with their backs to Dayton.
Cleveland Walters Jr., who also lives in Dayton, waited more than an hour outside his black GMC pickup to get home, where his wife and elderly 92-year old father needed to be cared for, he said.
"Dayton is where all my medicine is," he said, ticking off the medical issues stemming from Agent Orange he said he was exposed to while serving in the U.S. Air Force in Guam during the final years of the Vietnam War.
The runways for B-52 Stratofortress bombers taking off were choked with jungles, and the defoliant sprayed around his tent sparked skin and gastrointestinal problems. He takes about 30 pills a day, he said, and had only a limited supply with him as he sat on Highway 90.
But Walters wasn't overly concerned about the plant's reported impending explosion, after working in the oil industry for many years after his service.
"I drive by it about every day. It is what it is," he said. He left soon after, and like the Hyer family, put more distance between himself and Dayton as rescue vehicles roared to Beaumont.
(This story has not been edited by NDTV staff and is auto-generated from a syndicated feed.)