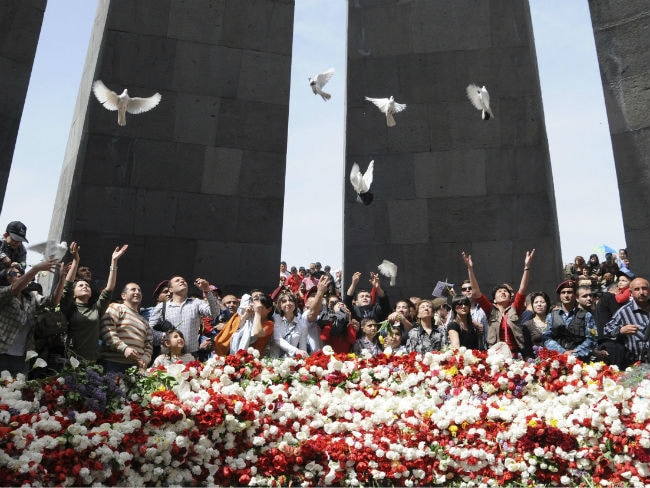 Cagnes-sur-Mer, France:
She was only a few months old when Ottoman forces came to take away her Armenian father, but a century on Shamiram Sevak can still imagine her dad hugging her tightly to say goodbye.
"They came to the house to fetch him, they took him away and then they hung him, my poor father," a teary Sevak, who turns 101 in July, told AFP from her retirement home in the southern French city of Nice.
A doctor and poet who has become an Armenian hero in the decades after his death, Ruben Sevak's mustachioed face graced a 2011 stamp, and a museum has also been opened in his name in his home country.
His daughter believes it was his outspoken poetry and activism protesting at what he saw as a rising threat against Armenians after a massacre of his countrymen in 1909 that made him a target when mass killings by Ottoman forces began six years later.
"They killed him because of his overly liberal quill and because he was Armenian. And they began with the intellectuals so that no one could bear witness to the genocide," Sevak's daughter told AFP.
Armenians will on Friday commemorate 100 years since the start of the killing of 1.5 million of their kin, which they consider a targeted campaign of genocide to eradicate their forefathers from what is now eastern Turkey.
'My father was warned'
Turkey has refused to acknowledge the highly sensitive term, which Pope Francis used earlier this month, saying many Turks and Armenians lost their lives as Ottoman forces battled the Russian empire for control of eastern Anatolia during World War I.
Born in a village near what was then Constantinople, Sevak went to medical school in Switzerland where he met his German wife, before returning home despite rumbles of trouble.
"My father was warned," said Shamiram. "There were murmurs: 'Everyone is leaving and you are going back? You are crazy,' people told him."
"But it was the war and he wanted to defend his country."
Ruben joined the army as a doctor, and was one of the first rounded up when Ottoman forces began imprisoning and killing Armenian intellectuals in April 1915.
"Of course I was too young at the time to have memories," said Shamiram.
"But I can still feel my father holding me tightly in his arms to say goodbye. I keep that in my heart."
'Covered in lice'
The German embassy helped the family flee the country, and Shamiram later returned to study in Armenia only to face a second exodus with her brother in 1922.
"The massacres began again. Our grandfather then put us on the first boat leaving for Marseille. That is how we arrived in France in 1922, covered in lice and grease."
Shamiram went on to work in fashion in Paris, moving to Nice after WWII.
She finally married a French taxi driver at age 45 after failing to find an Armenian husband and never had any children.
However the strong Armenian community on the French Riviera became her extended family.
She will join them on Friday to plant a pomegranate tree the symbol of Armenia in Nice to commemorate the genocide.
At 100 years old, Shamiram only has one wish left.
"I want to be there when it ends, when the Turks finally admit what they did. It has been a hundred years and they still say it isn't true."