Offbeat | Associated Press | Tuesday November 3, 2015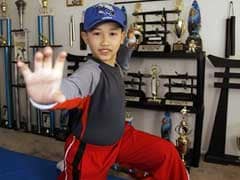 Moshe Kai Cavalin has two college degrees, but he's too young to vote. He flies airplanes, but he's too young to drive a car alone. Life is filled with contrasts for Cavalin, a 17-year-old from San Gabriel, California, who has dashed by major milestones as his age seems to lag behind.
World News | Associated Press | Wednesday February 15, 2012

The one thing 14-year-old Moshe Kai Cavalin dislikes is being called a genius. All he did, after all, was enroll in college at age 8 and earn his first of two Associate of Arts degrees from East Los Angeles Community College at age 9, graduating with a perfect 4.0 grade point average.