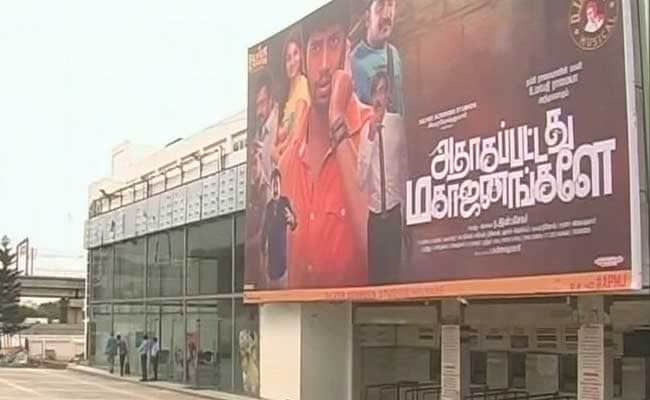 Chennai:
Theatre owners in Tamil Nadu have called off their indefinite strike
over a 30 per cent municipal tax on
movie tickets introduced after the Goods and Services Tax
(GST) was launched at midnight last Friday. Movie shows will resume this evening.
The strike has been called off as the Tamil Nadu government
has agreed to set up a committee to study the issue.
More than a 1,000 cinemas in the state have been shut since Monday to protest against the hike in taxes - they say that the state tax of 30 per cent on tickets on top of the new national tax GST of 28 percent will deter cinema-goers and encourage piracy.
GST of 18 per cent is applicable on tickets priced below Rs 100 and 28 per cent for those above Rs 100.
Tamil film industry representatives say the taxes could affect the livelihoods of nearly one million people. "We lose around 20 crore a day due to the strike," Abirami Ramanathan, who heads the Tamil Nadu Theatre Owners Association, had told NDTV.
Superstar Rajinikanth had also requested the state government to reconsider the 30 per cent municipal tax, a move that was backed by fellow actor Kamal Haasan.
"Keeping in mind the livelihood of lakhs of people in the Tamil film industry, I sincerely request the Tamil Nadu government to seriously consider our plea," Mr Rajinikanth had said in a tweet.
The issue was also raised in the state assembly on Tuesday by the Opposition.
GST, the country's biggest-ever fiscal reform, intends to replace more than a dozen national and state levies with a single unified tax regime. But as part of negotiations to get states to accept GST, it was agreed that some could impose additional local levies. Tamil Nadu has targeted cinema tickets.
The Tamil film industry is India's second biggest after the Mumbai-based Bollywood, and the state accounts for a huge chunk of the $2.1 billion annual box office earnings across the country.