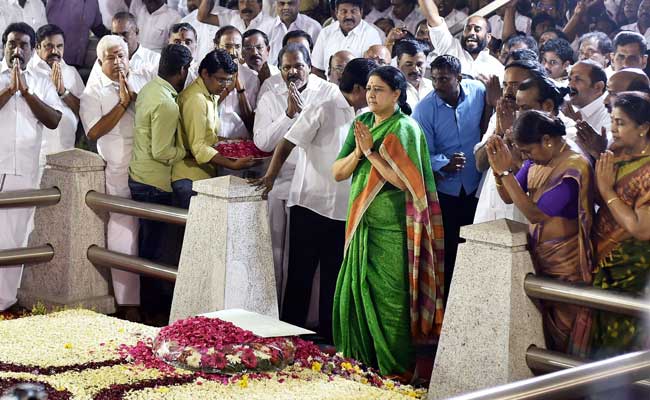 Chennai:
It took eight minutes for two Supreme Court judges to announce the decision that abruptly cut short the political career of VK Sasikala, a long-time companion of J Jayalalithaa. The judges concurred when they held Ms Sasikala guilty of corruption and decided that she has to go to back to jail to serve a four-year sentence. "We have expressed deep concern about escalating menace of corruption in the society," said the judges in their 570-page order.
Ms Sasikala, who was hoping to become Chief Minister of Tamil Nadu, has to surrender immediately and also has to pay a Rs 10 crore fine.
Five minutes before the hearing, the judgement came to Court Room number 6 in a big sealed packet.
The judges arrived at 10.32 am. As the seal was opened, the judges were seen deep in discussion.
"You can understand too much of fatty judgement, we have taken the burden on us...we will read out the conclusion," said Justice Pinaki Chandra Bose.
The second judge, Amitava Roy, said, "We are setting aside the High court judgement and restoring the trial court judgement in full. Case against A1 (Jayalalithaa) is abated. All convicted and surrender forthwith."
Ms Sasikala has been found guilty, along with Ms Jayalalithaa, of collecting a fortune beyond their known sources of income in the 1990s. They both were jailed for nearly a month in Bengaluru in 2015 after being convicted by a lower court, but they were let off by the Karnataka High Court.
The judges cancelled that order and restored the Bengaluru court's conviction.
"Sasikala cannot contest for six years after her four-year sentence. So for 10 years, her political career is obliterated," said PP Rao, constitutional expert.
The court had started filling up around 9.30 am.
The moment the judges announced that "all are convicted," chaos erupted and journalists rushed out to break the news.
The bench said since Jayalalithaa has expired, the proceeding against her is abated.