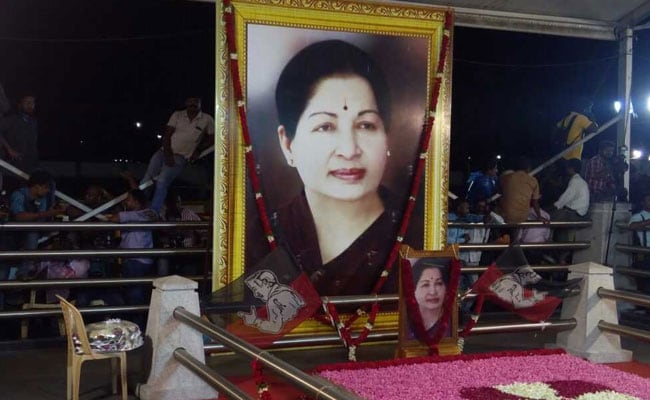 Chennai:
A recording of former Chief Minister J Jayalalithaa's conversation with her doctor has been released by the commission investigating the circumstances of her death. Questions have been raised about the death of the former Chief Minister, who was at Chennai's Apollo Hospital for 75 days. She died in December 2016.
In the 1.07 minute audio recording, the 69-year-old is heard coughing. Then she says she can hear a sound when breathing, which resembles fans' whistling in movie halls. She also tells a man -- identified as her physician Dr KS Sivakumar -- that if it was not possible (to download a mobile application to record her wheezing), "leave it".
She also has a conversation with the physician on duty about her blood pressure - 140 by 80. She said it was normal for her.
In another 33-second audio clip, connected to the original recording, Dr Sivakumar tells Jayalalithaa, who is breathing heavily, that he is recording the wheezing and it was not "very intense now". She replies: "When it (the wheezing) was there, I told you, you said it (application) could not be taken (downloaded)". The doctor says he has downloaded the application.
The recordings were made on September 27, 2016, Dr Sivakumar told the Justice A Arumughaswamy Commission of Inquiry.
A chart in green ink, said to be handwritten by Jayalalithaa, was also submitted to the commission, which showed her diet and that she was conscious of it.
The chart, which recorded her weight (106.9 kg) started with "lotus water" at 4.55 am. Breakfast was one idli, four slices of bread, tender coconut water of 230 ml and 400 ml of coffee - taken between 5.05 am and 5.35 am.
For lunch (2 pm to 2.35 pm), she wrote basmati rice one-and-half-cups, a cup of yoghurt and musk melon. Dinner, eaten between 6.30 pm and 7.15 pm, comprised walnut and dry fruits (1/2 cup), idli or upma, one cup, one dosai, two slices of bread, milk 200 ml and anti-diabetic tablets.
Hitting out at the timing for the release of information, DMK leader MK Stalin said it was being used to divert people's attention from last week's police firing in Tuticorin, which triggered statewide anger.