Highlights
Kamal Haasan asked fans for proof of rotten eggs given to school children
Fans from Perambulur sent pictures of eggs, marked with blue ink
Government officials from the school's district, deny the allegation
CHENNAI:
Actor Kamal Haasan, who had taken up state minster SP Velumani's challenge to expose corruption in government and mobilized his fans to furnish proof, on Tuesday highlighted one instance: Rotten eggs served to school children for mid-day meal.
The actor tweeted about this and his fans in Perambulur district circulated pictures of the eggs, marked with blue ink, floating in a huge pan. This is usually an indication that the eggs are old and rotten, or unfit for consumption.
His tweet read:
Perambaloor expose' of rotten eggs given to children deserves praise. Pls consult our in house lawyers be4 exposing crime Dont break laws.

- Kamal Haasan (@ikamalhaasan) August 1, 2017
Government officials in Perambalur district, where the school is located, have denied the allegation. "Every day they test eggs by putting them in water. Eggs which floated were kept separately to send for replacement. They've taken pictures of those," Perambalur Collector V Santha told NDTV.
If the children had eaten the rotten eggs, they would have fallen sick, she said, adding "nothing of that kind has happened".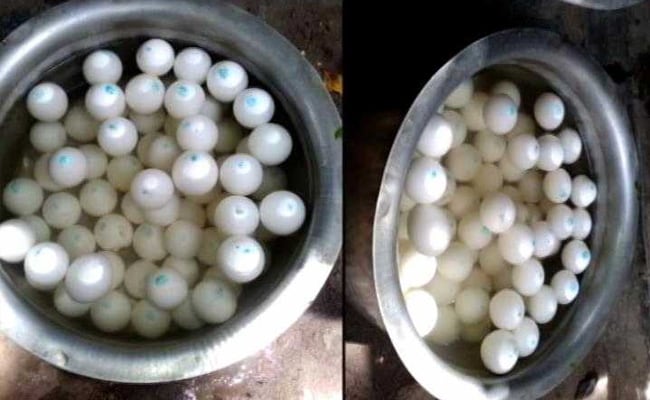 The actor's face-off with the government was the fallout of the friction with a fringe group that had criticized the Tamil version of the TV show Bigg Boss, which he is hosting.
While responding to their allegations of vulgarity, Mr Haasan had said, "There's corruption everywhere in the state". The comment had ruffled the feathers of Mr Velumani, who wanted him to prove his allegation and said case would be filed against him otherwise.
Mr Haasan turned to his fans, asking them to report instances of corruption to the ministers online. "Let a few lakh complaints reach ministers. Will you arrest all? Or will you respond? In the entire south there wouldn't be space for all in jails" the 62-year-old actor had tweeted.
Almost overnight, the email IDs of Chief Minister E Palaniswami and his cabinet colleagues were removed from the state government's website.
To the upset fans of the actor, Finance Minister D Jayakumar said, "Every MLA has a website. They can report to us on that if they have any problem. We will take action."
Today, the actor's tweet was widely circulated and fans came out in support.
Purposely giving bad food to children is Inhuman to say the least.. Really thankful to all those who have brought this matter into light.

- R (@BeingRidhima) August 1, 2017
Shame.... That this is done to children

- கமல் என் காதலர் (@Musicaraj) August 1, 2017
While there are hints that the actor might enter politics, his fans think he has already shaken up the ruling dispensation. A few days ago posters appeared in Madurai hailing him as Chief Minister. But the actor asked his fans not to waste efforts on posters, suggesting that they "take the debate higher".