Chennai:
Highlights
Over 30 students are caught in a forest fire at Theni in Tamil Nadu
10 students have been rescued so far: Collector
Defence Minister: Southern Command is in touch with Collector of Theni
Thirty-nine people, mostly students, were caught in a massive forest fire in Theni district of Tamil Nadu on Sunday evening. Ten people have been rescued and taken to the hospital in Bodinaickanur. Sources say 10-12 people may have suffered burn injuries.

"Our officials and local people are trying to physically carry them to the foothills so that they don't have to wait till morning to be air-lifted," Pallavi Baldev, the District Collector told NDTV. Aerial rescue will also start as soon as there is light on Monday morning.

In the group, there were 25 women and 3 children who went on a trek organised by the Chennai Trekking Club, the Collector said. The group was trapped in forest fire on their way back on Sunday.

The trekkers - included a group of 27 people from Chennai and a batch of 12 from Erode and Tirupur - were on their way back from a trek to the Kurangani hills, when they got caught in the fire. The air force has been pressed into service for rescue operations, which has already been started by locals and forest personnel, who have reached the site, say police.

A MI-17 chopper of the Indian Air Force is already on its way from Sulur, to assess the situation say sources in the defence ministry. An aerial survey will first be done to gauge the extent of damage.

On a request from Chief Minister Palanisami, Defence Minister Nirmala Sitharaman instructed the Indian Air Force to help in rescue and evacuation of students.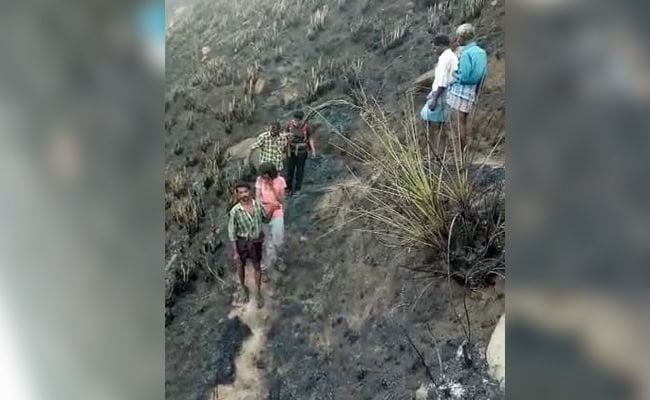 "Southern Command is in touch with the Collector of Theni," tweeted the Defence Minister and 10-15 students have been rescued. They are already on their way down, Ms Sitharaman said.


A senior police officer has told NDTV, that students who had gone for trekking "did not take permission from police or the forest department."
Ambulances and fire engines have been sent to the spot, fire officials told NDTV. The officials say the area does not have good cell phone connectivity.
"One of the members of the trekking team called 108 ambulance service and alerted about their situation", an official said.
Deputy Chief Minister of Tamil Nadu is on his way to the spot.
Get Breaking news, live coverage, and Latest News from India and around the world on NDTV.com. Catch all the Live TV action on NDTV 24x7 and NDTV India. Like us on Facebook or follow us on Twitter and Instagram for latest news and live news updates.