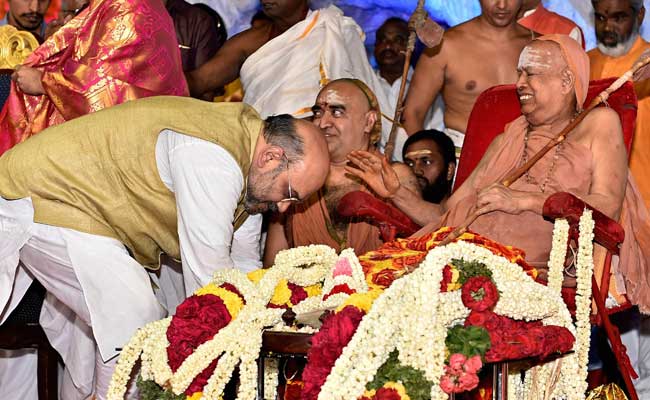 Chennai:
BJP President Amit Shah, on his first visit to Tamil Nadu after the May elections were announced, targeted Chief Minister Jayalalithaa in Chennai on Wednesday. He was attending the birthday celebrations of the Kanchi Shankaracharya -- .
Mr Shah said, "Tough action was taken against the Kanchi mutt politically.
As Home Minister, I had sat on dharna (protest) in Gujarat against this."
He was indirectly referring to the arrest of the mutt's two senior pontiffs in 2004, in the Sankararaman murder case. Ms Jayalalithaa was also in power then. However, nine years later a court acquitted them.
On a day its former ally Actor Vijayakanth's DMDK sealed the deal with the Vaiko led PWF, it appeared the BJP may have to contest alone in Tamil Nadu. The senior pontiff Jayendra Saraswathi, in turn, endorsed Prime Minister Narendra Modi. In his speech he said, "Modi is a good person. He's the only (sitting) Chief Minister who became the Prime Minister."
The state could see a five-cornered contest in May.
The DMK, Congress and the MMK have revived ties hoping to make a comeback. Ms Jayalalithaa is speaking to smaller parties aiming at a second term. The PMK wants to go it alone. Both the BJP and DMK desperately tried to woo Mr Vijayakanth DMDK. Now, the BJP is hoping Mr Modi's appeal will win them some seats.