Highlights
Kamal Haasan said he'll adopt a village in every district
Delhi Chief Minister Arvind Kejriwal will join him at the launch
Actor seeks unity among southern states under "Dravidian" identity
Madurai:
At around 8 this morning, actor Kamal Haasan reached the home of former President APJ Abdul Kalam in Tamil Nadu's Rameswaram, from where
he will travel to Madurai about 170 km away
, to launch his
new political party
by flying its flag. At the 6 pm launch in Madurai, Delhi Chief Minister Arvind Kejriwal will join him.
As he drives, Kamal Haasan will stop to address public meetings, including in his hometown Paramakudi in Ramanathapuram and in Sivaganga. He said he has picked Madurai for the launch as it is the cultural and political capital of the state. It's not clear yet where he will announce the name of his party; he has already released an anthem, "
Nalai Namathe
(Tomorrow is ours)".
"I will start my rally tomorrow from Rameswaram and will announce party flag and ideology in Madurai. All are invited," the actor said before he left Chennai for Madurai on Tuesday.
Kamal Haasan also said, "I am entering politics only because the ruling AIADMK is bad. That is why I am not meeting any of them." Ahead of his party's launch, Mr Haasan has met Tamil cinema's other mega star Rajinikanth, who too has announced his political debut, and also leaders of opposition parties like DMK chief M Karunanidhi and DMDK chief Vijayakanth. He said he was calling on "whom I like."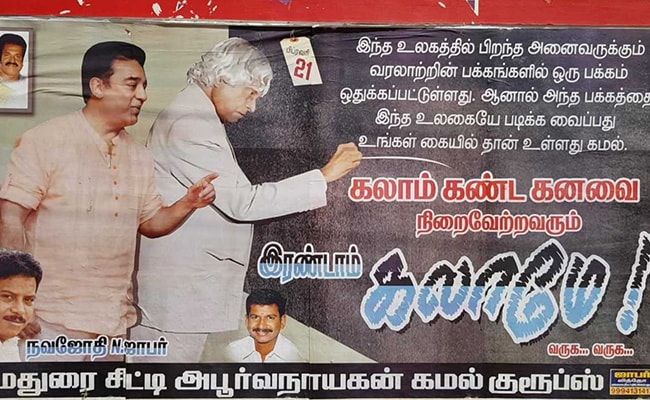 In Madurai and all along the route from Rameswaram to the temple town, there are posters that picturise Mr Haasan in different political roles in which his fans and supporters would like to see him.
In several posters, Dr Kalam, rationalist leader Periyar and BR Ambedkar make an appearance. Some posters show Mr Haasan as a second Dr Kalam, and say he will fulfil the dream of his hero Dr Kalam, with the legend - "Kamal is a second Kalam."
There is one poster that shows Mr Haasan walking in Mahatma Gandhi's footsteps. Mr Haasan has always spoken about
being a great admirer
of Mahatma Gandhi. It was in Madurai that Mahatma Gandhi gave up his regular dress and adopted loin clothes. Several posters are inspired by memorable roles the actor has played in films. "Nammavar" or "our man", released in 1994, comes up often.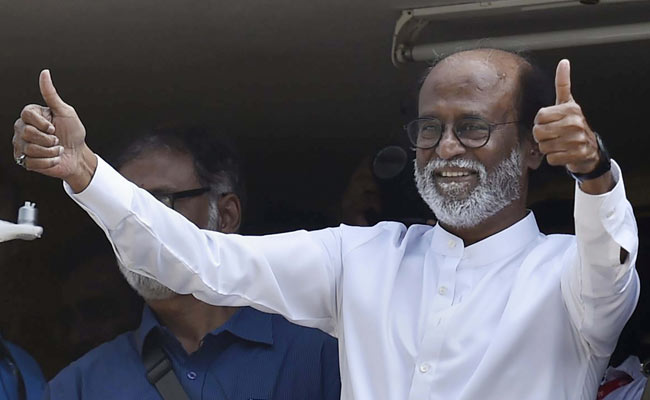 One calls him Dravida Haasan. Kamal Haasan on Tuesday re-asserted his plan to take on the state's Dravidian heavyweights, saying he is confident that he will succeed with his Dravidian brand of politics.
He had last month called for unity among southern states under the "Dravidian" identity to give them leverage with the centre. "Dravidian is our identity... When the Dravidian identity is celebrated across south India, it will lead to a united chorus that will reach New Delhi," the actor had said.
On Tuesday, he told reporters, "You will know when I make it a success."
Both Kamal Haasan and Rajinikanth are seen to be
eyeing a gap in Tamil Nadu politics
perceived to have been created by the death of former Chief Minister J Jayalalithaa, who led the ruling AIADMK, and the illness and advancing age of 96-year-old M Karunanidhi. They have been painstakingly non-committal on whether they could join hands.
After the Madurai launch today, the actor plans a state-wide tour and has said he will adopt a village in every district, with development and fighting corruption as his main agenda.
Aam Aadmi Party chief Arvind Kejriwal's presence at the Madurai function today is being seen as a highlight. The Delhi chief minister had called on Kamal Haasan in September last year, when the actor first started hinting at a political career.