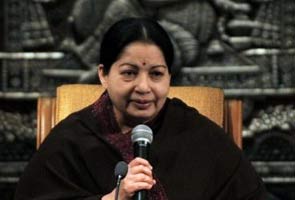 Chennai:
Amid the simmering Mullaperiar dam row, the Tamil Nadu government today announced setting up of a memorial for British engineer Col Pennycuick, who had constructed the dam at the Lower Camp in the Theni district over 116 years ago.
"I am happy to announce that a memorial to thankfully remember Pennycuick will be built at a cost of Rs one crore and over 2500 sq ft at the Tamil Nadu Electricity Board premises in Lower Camp. Upon its completion, Pennycuick's grandson will be invited for its inauguration," Chief Minister J Jayalalithaa said in a statement here, adding a statue of the engineer will also be installed there.
She said the late army engineer had even sold his property and completed the project amidst much difficulty and hardship.
He had used materials such as lime kurki along with big stones to construct the dam based on the principle of gravity, which she said, had the strength to withstand tremors and therefore the "dam is strong even today."
Tamil Nadu and Kerala are locked in a bitter row over the more than 116-year-old dam, with the latter wanting to replace it with a new one citing safety reasons while Tamil Nadu has held that the dam is strong. A case is on before the Supreme Court.
"Since the dam has been functioning well and will remain strong for many hundred years more, people from the southern districts had placed a demand for constructing a memorial for Cuick to show our gratitude," Jayalalithaa said.
By constructing the dam, "Pennycuick's name had been etched in the hearts of the local people. The proposed initiative will be a fond remembrance of a man who paved the way for the prosperity of south Tamil Nadu," she said.
Recalling the circumstances that led to the construction of the dam, she said Pennycuick was concerned over the drought situation in the areas dependent on water from Vaigai river under the then Madras Presidency, and therefore planned a dam across the Periyar river to divert water towards the Eastern side.
The works started in the presence of then Governor Lord Connemara and Pennycuick and the labourers had to face hardships in the form of wild animals, flash floods and insect bites, she said, adding, the construction work was stalled in three years from its start due to heavy rain and flood.
"Since no fund was available from the British rulers within the stipulated time, Pennycuick returned to England to sell his property to complete the dam. It was inaugurated in October 1895."
"The dam benefits irrigation over 2.23 lakh acres of land in the districts of Theni, Dindigul, Madurai, Sivaganga and Ramanathapuram which now play a key role in meeting the food demand of the state. It also addresses the drinking water needs," Jayalalithaa said.