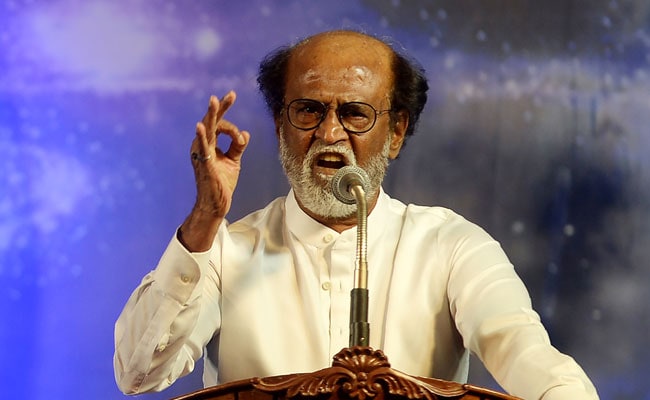 Chennai:
Megastar Rajinikanth today said it was his desire to create a political revolution in Tamil Nadu, a "historic" state that facilitated major changes.
"Tamil Nadu is a very historic place...be it Gandhiji discarding his usual attire and going in for a loin cloth.. everything had a start from here...many things," he said.
In a brief four-minute informal address to the media in Chennai, two days after declaring his political entry, he said "it is my desire to start from here a political revolution".
Future generations will live better if a change was facilitated now, the actor said.
Everybody has a responsibility in the initiative which was like the struggle for independence, he said and added that the present one was a "democractic struggle". Rajinikanth said he was media shy and rarely interacted with reporters.
Sporting a smile, he said he was not sure on handling the media. However, he assured journalists that he would address them after party related work was done.
Rajinikanth said he had worked as a proofreader in a newspaper in Karnataka for two months.
To a question on "spiritual" politics interpreted by some as communal politics, Rajinikanth told reporters earlier at his residence that what he meant was politics based on truthfulness and honesty devoid of caste, creed and religion.
He, however, declined to specify when he will announce the name and symbol of his proposed party.
"I myself do not know," was his reply when questioned by reporters.
Asked if he will meet the people, he said in due course it will be made known.
"At one go, I cannot tell you everything," he said. Yesterday, Rajinikanth called on spiritual heads of the Ramakrishna Math here and sought their blessings.