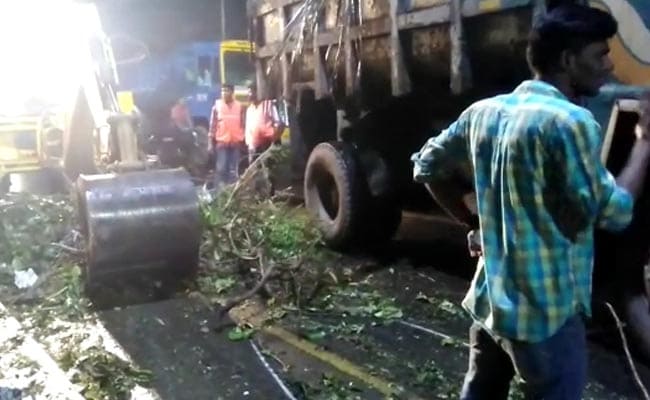 Chennai:
Cyclone Vardah, which struck Tamil Nadu and Andhra Pradesh on Monday, has caused extensive damage to Chennai city which is yet to return to normalcy.
The city corporation has launched a massive late night operation to remove fallen trees lying on bus routes across the city to ease traffic congestion.
Of the 14,000 trees that have been uprooted by the cyclone, around 9,000 fell along bus routes. The same day authorities had cut them and moved to the roadside to enable vehicular movement. Officials said they were expecting to clear the trees by Friday night.
Dr D Karthikeyan, the Commisioner of Chennai Corporation said, "By this weekend traffic on bus routes will turn normal. During day time this would be difficult due to the intensity of the traffic. The police are diverting traffic on these stretches at late night".
The corporation has deployed 300 trucks and 150 JCB earth-movers to clear the trees from the road.
Cyclone Vardah made landfall around north Chennai with wind speeds of 120 kmph.
The cyclone had also damaged the power supply network in the city. Officials maintain that the power supply will be restored soon. "In a day or two it will be restored. Most of the transmission towers had broken during the cyclone. They are trying to restore," said Dr Karthikeyan.