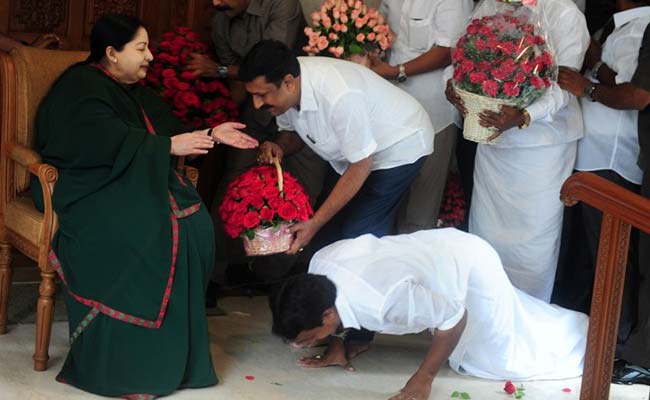 Chennai:
A video of former Tamil Nadu Chief Minister J Jayalalithaa in her hospital bed, sipping a drink, her hair neatly combed was leaked just a day before her constituency of Dr Radhakrishnan Nagar or RK Nagar voted for its new representative. Jayalalithaa, who died a year ago at the age of 68, had represented RK Nagar twice.
The video - and its intended effect - is the latest in a series of bizarre moments that have showered down over Tamil Nadu since Jayalalithaa's death, which, despite her lengthy illness, apparently nobody was really prepared for.
The chaos and the competition to take over her party, the ruling AIADMK, which for decades under her ran as a one-woman show, was succinctly presented in the election for RK Nagar, which saw a turnout yesterday of 77.5 percent, the highest in years.
The contestants are: E Madhusudhanan of the AIADMK who was earlier elected from RK Nagar in 1991; Marudhu Ganesh of the DMK, the opposition party that is steadily gaining from the disarray within Jayalalithaa's party; and TTV Dhinakaran, the powerful nephew of Jayalalithaa's closest aide, VK Sasikala, who is running as an independent, having been reduced to a sidekick within the AIADMK after a nano-second when he appeared, in the weeks after Jayalalithaa's death, to have taken control of the party.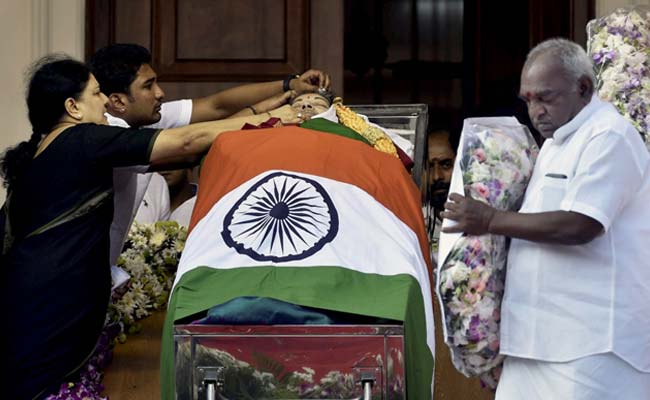 His diminution is among the casualties of the free-for-all that erupted between Jayalalithaa's extended family (which includes Sasikala), close friends and estranged relatives to take control of her immodest fortune and equally outsized political legacy. As
"Amma"
, Jayalalithaa's prestige, charisma and authoritarianism was unquestioned; she was "mother" to millions who fed off her populist schemes - the free mixer-grinders, one-rupee
idlis
and subsidized medicines. After her death, a queue of applicants to take over from her quickly formed.
At the head was Sasikala,
Amma's
live-in companion, who took charge of the party and then installed and then fired O Panneerselvam or OPS as Chief Minister; however,
"Chinamma"
or mother's younger sister) was quickly locked up in jail in February for corruption by the Supreme Court; she handed the party to Dhinakaran who proved wildly unpopular on account of a parade of old corruption charges; E Palaniswami or EPS and OPS then fought long and hard for control of the AIADMK before coming together to serve as Chief Minister and Deputy. Now, united, they are up against Dhinakaran, who hopes to win RK Nagar and prove that he is the real heir to
Amma
.
As RK Nagar voted yesterday to settle these competing claims, from Delhi came a whopper of a newsbreak: that the DMK's top leaders had been acquitted in a corruption case that had helped bring down Dr Manmohan Singh's government. The telecom scam - christened "2G" on account of the second-generation airwaves involved - was declared a non-starter by the verdict - the judge said, "a huge scam was seen by everyone where there was none."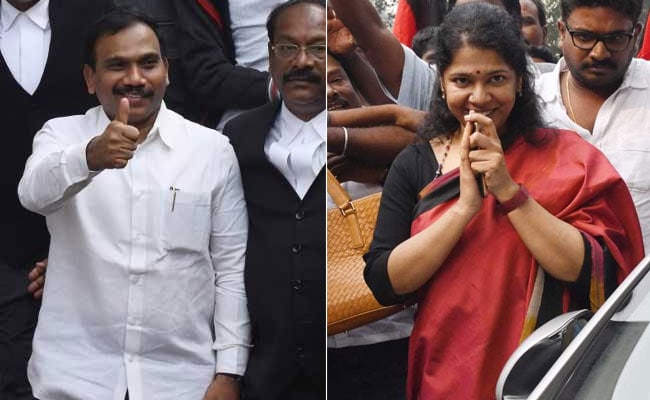 The verdict was delivered by 11 am, loaded with the potential to impact the RK Nagar election - results are due on Sunday. Till the verdict was delivered, it was hard to imagine anything influencing the election as much as the video of Jayalalithaa, filmed by Sasikala before the Chief Minister's death - there are no details on when exactly.
The 20-second video was outed by P Vetrivel, an acolyte of Dhinakaran. He insists that it is his deep attachment to
Amma
that impelled him to share the footage to end abiding talk from the OPS-EPS camp that her death was not natural and that Sasikala, who carefully controlled access to Jayalalithaa in hospital, must be investigated. Dhinakaran says he has more videos of Jayalalithaa but has shown restraint because she "would have disliked it if people saw her looking unwell and wearing a night gown." This is not an exaggeration - Jayalalithaa, always immaculately dressed in a sari (green was her lucky colour, she believed), appeared in public in carefully choreographed appearances on the balcony of her mansion; her persona was constructed to present redoubtable strength.
The video, said Team EPS-OPS, was thrown into public 24 hours before voting to evoke sympathy; because Team Dhinakaran had presented it, they would be the beneficiaries. Any genuine attempt to unravel the facts of Jayalalithaa's death should have seen the video presented to a commission headed by a retired judge that is investigating her death, said the AIADMK.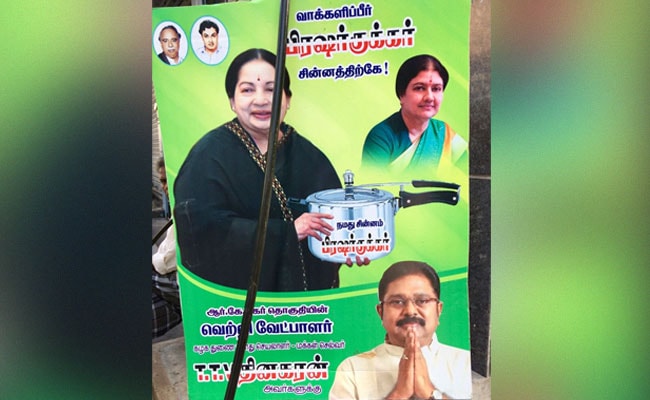 By about 1 pm, when the Election Commission banned TV channels from airing the video, everyone in RK Nagar had seen it, but many residents told NDTV it made no difference to them, because their votes had already been "promised" to different candidates. For several days, the local media has been reporting on the alleged race between Dhinakaran and the AIADMK to bribe voters. While Dhinakaran's supporters alleged that the AIADMK was paying Rs 6,000 for every vote, the AIADMK accused Dhinakaran of stuffing cash into hundreds of pressure cookers - his election symbol - and delivering them to households.
Déjà vu. The RK Nagar election was originally scheduled for April this year but was cancelled after nearly 90 crores were discovered as intended bribes in a raid on an AIADMK minister (Dhinakaran was the AIADMK's official candidate then). At the time, the reported going rate for a vote was Rs 4,000. It increased in this round to Rs 6,000, say residents. A joke making the rounds on social media currently lists RK Nagar in Chennai as the area with the highest per capita income in the world.
The transaction was hiding in plain sight, says just about everyone. "What is wrong with it?" argued Dalamma, a 60 year-old-flower seller. "The politicians have given us little else. There has been no development in RK Nagar. Everyday, there is the stench of sewage in the water which gushes through my tap. And it is the same water which I boil for drinking because I cannot afford to buy it from tankers like politicians. Now with the money I have made, I will allow myself the luxury of bottled water for at least a week," she laughed. Contaminated water, unchecked construction which leads to flooding every monsoon and potholed roads are decaying RK Nagar. Its voters therefore feel entitled to some compensation from the politicians for not keeping any of their poll promises. "Besides," adds Dalamma's 26-year-old son, Vijay, an auto rickshaw driver "the candidates are not giving away their hard-earned money - only what they have looted from the people of the state."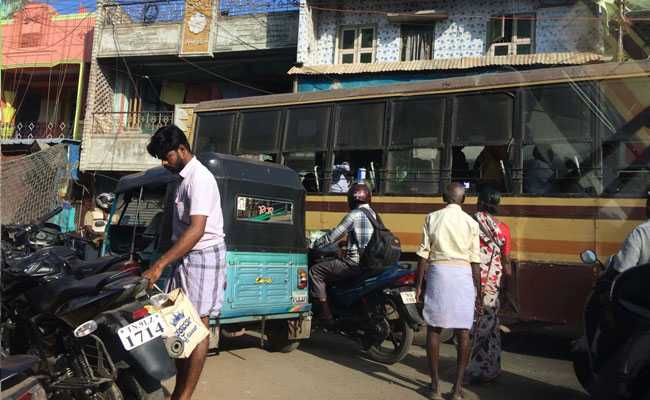 Vijay insists he has not taken any money this time because he is a DMK supporter and the party's chief, MK Stalin, claimed the the moral high ground by refusing to dole out money or any other sops. Many in RK Nagar aren't buying that entirely but concede that the DMK was the least splashy in its offerings. "They probably don't think it's worth their while to spend huge sums on a by-election which is a matter of life and death for the different factions of the AIADMK fighting to inherit Jayalalithaa's queendom," says Vijay. But local historian AR Venkatachalapathy believes that the DMK must win to project itself as the only alternative to a faction-ridden AIADMK. "A victory will firmly establish Stalin, who has led his party's campaign, as the DMK's chief ministerial face and as a leader capable of results."
In November, Prime Minister Narendra Modi visited Stalin's unwell father, DMK chief M Karunanidhi, in Chennai and asked the 93-year-old to consider using the PM's official residence in Delhi to recuperate. The house call incited immediate talk of a prospective new alliance - that the PM was signalling that despite the taint of the 2G scam, the DMK was a viable option for his party, which has virtually no power in Tamil Nadu. The DMK was a part of BJP stalwart Atal Bihari Vajpayee's coalition government though its ideology has little in common with the BJP: it eschews religion, caste and cannot support the BJP's call for the use of Hindi as the official language of communication. But being part of Mr Modi's coalition as the 2G case is reviewed by a higher court could provide immense comfort.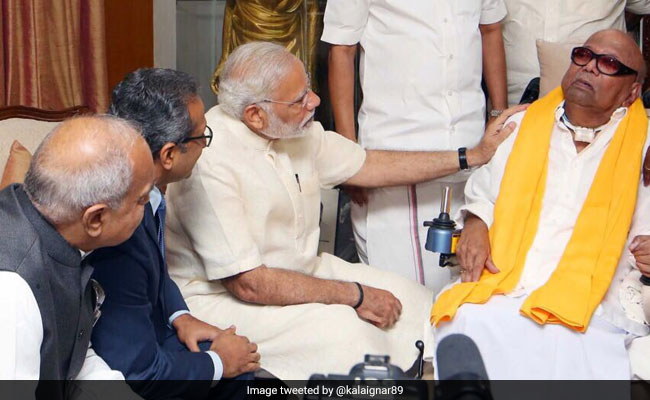 Chennai has always been a DMK stronghold (in the last Lok Sabha election, it won 10 of the 16 seats in the city) and it is likely that
Amma's
votes will be split between the AIADMK and Dhinakaran, helping the DMK win. A prominent youth leader of the party who did not want to be identified is convinced that the DMK candidate will win - because
Amma
is missing. "She rarely campaigned but had an emotional connect with the people of this constituency. And in RK Nagar, where there are more women voters than men, she was their role model. She completed all their lost dreams and aspirations. Now all that is left is a bunch of men with no charisma fighting between themselves."
A leaked video of a beloved leader, pressure cookers as supposed conduits of cash, voters openly demanding they be bought. The head-turning row of now-what moments has ensured RK Nagar its place in national conversation. The winner, incidentally, is corruption.