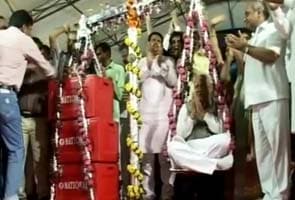 Surat:
Narendra Modi's Food Minister Narottam Patel turned 77 yesterday with a bizarre celebration. He was weighed in blood on a weighing scale bedecked with flowers and garlands.
Mr Patel's supporters would have been happy he is no heavyweight. Reports suggest almost 70 litres of blood was collected to balance his 70 kg frame. His supporters had organised blood donation camps across Surat.
So there sat Gujarat's Minister for Food, Civil Supplies and Consumer Affairs on one side of the massive scale, looking rather pleased at the innovative felicitation; on the other side were three ice boxes with pouches of the blood, donated by his supporters.
Mr Patel said he felt honoured and then used the most literal interpretation of Netaji Subhash Chandra Bose's famous words to justify the strange ceremony.
"Subhash Chandra Bose had once said 'Aap mujhe khoon do mein tumhe azaadi dunga'. Now that they have given me their blood, I will fight for them," Mr Patel said.
The blood that was collected was later given to various blood blanks in the city.
In a similar incident two years ago, BJP leader RC Faldu, again from Gujarat, was weighed in blood by his supporters.