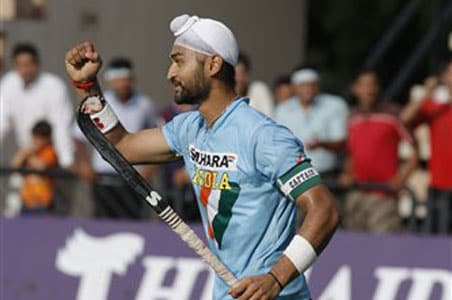 New Delhi:
Drag-flicker Sandeep Singh will lead an 18-member Indian squad to defend their title in the eighth Asia Cup hockey tournament in Kuantan, Malaysia from May 9 to 16.
After a selection trial in Bhopal, the Indian Olympic Association appointed ad-hoc selection committee made four changes in the squad that won the Azlan Shah Cup in Malaysia this month.
V Raghunath, Vikram Pillay, Rajpal Singh and Hari Prasad have been named in place of Ignace Tirkey, Sarwanjit Singh, Bharat Chhikara and Shivendra Singh, who have kept on standby.
Eight-time Olympic champions, India previously won the Asia Cup at Kuala Lumpur in 2003 and Chennai in 2007.
Meanwhile, former India captain Dhanraj Pillay has been retained as the manager of the team.
<b>Squad: </b>Baljit Singh, Adrian D'Souza (Goalkeepers); Sandeep Singh (Captain), Dilip Tirkey, V Raghunath (Full Backs); Gurbaj Singh, Sardar Singh, Ajitesh Roy, Vikram Pillay, Prabodh Tirkey, VS Vinaya (Midfielders); Tushar Khandker, Rajpal Singh, Prabhjot Singh, SV Sunil, Arjun Halappa, Hari Prasad, Gurvinder Singh Chandi (Forwards).
<b>Standbyes: </b>PR Sreejesh, Sarwanjit Singh, Bharat Chhikara, Shivendra Singh.
<b>Officials: </b>Harendra Singh (Coach in-charge); Ramandeep Singh, Romeo James (Coach); Dhanraj Pillay (Manager).