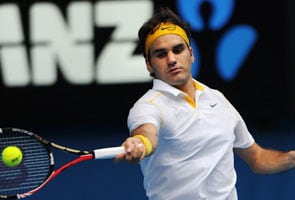 Roger Federer will welcome the familiarity of his next opponent at the Australian Open after dodging a bullet from nemesis Gilles Simon in the second round early on Thursday.
The defending champion had to pull out his best tennis to get on top of the 34th-ranked Frenchman in a desperate fifth set to claim victory, 6-2, 6-3, 4-6, 4-6, 6-3 in a spellbinding 3hr 13min showdown on Rod Laver Arena.
Simon is one of only three active players along with world number one Rafael Nadal and last year's finalist Andy Murray to hold a winning record over the all-time Grand Slam title champion.
At one stage it looked as though Simon was going to stretch his winning sequence to 3-0 as he fought back from two sets down to take the match into a fifth set with Federer under the pump.
"I definitely felt something was not going my way," Federer said.
"I really had to play an extremely good game to close it out. Obviously I am quite relieved."
The Swiss great will now have what appears a more comfortable match coming up on Friday against Belgian Xavier Malisse, 30, whom he has played eight times.
Federer has won seven of those encounters, with the 45th-ranked Malisse's only success coming in their first meeting 12 years ago in a Davis Cup tie.
"Physically I'm fine, and I'm really looking forward to my next round opponent, who I've known for a very long time," Federer said.
Federer, who has an extraordinary recall of what happened in his past matches and what strategy he needs for his next opponent, said he will get plenty of positives out of his post-midnight escape.
"There's definitely positives to take out of this match," he said. "I didn't play bad. I didn't think I played bad in the third and the fourth sets. Really, a lot positives came out of the match.
"Sure a match like this can give you a lot of information, and should be very positive in the long run. We'll see how it goes."
Although confident he would ultimately prevail, Federer said at times he felt things weren't going his way against Simon, whose volleying at times in the third and fourth sets was exhilarating.
"I was like, 'This can't be true, right?'" Federer said, when asked what was going through his mind as plucky Simon saved the first three of five match points against him.
"I've had some tough losses last year. Obviously they're in the past and I've had a wonderful last six months.
"But sometimes it just doesn't seem to go your way. As much as you believe and press and do the right things, sometimes you get unlucky and sometimes the other guy just reads your mind or it just all falls into place and it's not your day.
"I didn't feel that feeling out there, but I definitely felt something was not going my way."
Going virtually unnoticed in the tumult of Federer's big escape was that he equalled Swede Stefan Edberg's record for the most Open Era wins at the Australian Open with 56.