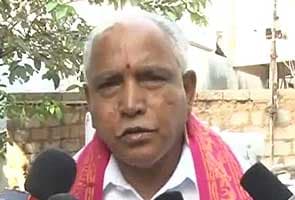 Bangalore:
In July 2011, BS Yeddyurappa walked 1.5 km in the rain with a resignation letter in hand and one arm around a supporter. There were many shoulders on offer - nearly 20 of the BJP's 122 MLAs walked with the Karnataka strongman on his way to the Raj Bhawan to quit as Chief Minister, even though he claimed he had the support of 70 BJP MLAs. Last month, he walked from Bangalore's Freedom Park to the Vidhan Soudha to submit his resignation as MLA from the Karnataka Assembly, six BJP MLAs with him. But when Mr Yeddyurappa walked again today, there were no BJP MLAs.
Everything else was the same. The white shirt, white trousers and sandals, hand held up in a V for victory, and much drama, Yeddyurappa style, as he set out on his "chalo Vidhan Soudha' rally. Mr Yeddyurappa, who quit the BJP, his party of 40 years, some months ago, is now the chief of the Karnataka Janata Party or KJP. Today's one-kilometre walk was meant to highlight what he calls the "failure" of the BJP government in the state.
The former Chief Minister, who is often credited with having won the BJP its first and only government in the South, resigned from the party for what he calls its "betrayal." He has accused the BJP's central leadership of not keeping its promise that it would make him state party chief after he was forced to give up the CM's post over corruptions charges last year.
Early this month, 13 MLAs, including state ministers, met him at the launch of his new party, the KJP, in Haveri. The BJP has so far not taken action against those MLAs. That emboldened Mr Yeddyurappa to dare Karnataka Chief Minister Jagadish Shettar to dissolve the Assembly and prove majority. The Lingayat leader claims that over 40 of the party's 119 legislators, including several ministers, support him and will resign soon to join his KJP.
Mr Shettar is a Lingayat leader too, a man with whom Mr Yeddyurappa buried the hatchet to make common cause of seeking the ouster of his successor B Sadanand Gowda. Mr Yeddyurappa had hand-picked Mr Gowda to succeed him; he then picked Mr Shettar to succeed Mr Gowda, who did not think it was necessary to resign under pressure from Mr Yeddyurappa.
But with every tantrum, Mr Yeddyurappa's bargaining power within the party waned, and the BJP leadership refused to capitulate, making him quit the party in a huff. BJP state president and Deputy Chief Minister KS Eshwarappa, said on Wednesday that if Mr Yeddyurappa were to make an attempt to split the BJP, "only a handful of BJP legislators would join the new party. The BJP is a national party and Yeddyurappa is not bigger than the party. There is no question of dissolving the assembly," he told NDTV.
Karnataka votes for a new Assembly next year and Mr Yeddyurappa's supporters in the BJP are playing a wait and watch game. Political analysts say there is no doubt that even a much weakened Mr Yeddyurappa will dent the BJP. He is seen as the tallest leader in the strong Lingayat community which has more than 19 per cent of Karnataka's vote share.
For now, the BJP's top leadership is focusing on keeping its flock together. It has not considered expelling the MLAs close to Mr Yeddyurappa as that could mean a threat to the government. But it has decided to make fresh appointments to statutory boards after removing some Yeddyurappa supporters from the party. Mr Eshwarappa said, "Fresh appointments with party cadres will happen soon." The party has also decided to fill two cabinet berths created following the sacking of BJ Puttaswamy (MP) and resignation of Sunil Vallyapure (MLA).