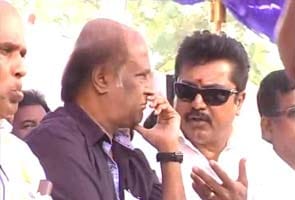 Chennai:
Tamil superstar Rajinikanth has joined a hunger strike, led by a cross section of artists from the Tamil film and television industry.
Big stars who joined the day-long protest include superstars Vijay, Sarathkumar, Radhika and Suhasini.
They want artists, directors and choreographers to be exempt from paying service tax. The cess of 12.36 per cent, they argue, should not apply because the service tax on the entertainment industry was partly lifted a few years ago exempting producers, exhibitors and distributors.
Now the industry wants this to be extended to artists, directors and choreographers too.
The president of the actors association Mr Sarathkumar told NDTV, "the industry has thousands of smaller artists besides leading stars. Not all get offers throughout the year and they are overburdened. Unlike other industries we can't even pass it on to consumers as theatre collection comes under state government".
All film shoots for today have been cancelled. Theatres across the state will remain closed till evening. Night shows, however, will still be played.
Actors, directors, producers, distributors, technicians and theatre owners also a part of the strike.