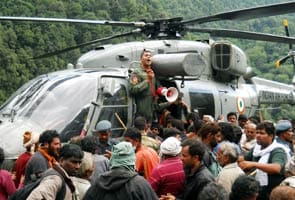 Bangalore:
Over 800 out of the over 1,300 people from Karnataka stranded in Uttarakhand have been rescued so far, an official statement said on Tuesday.
"All 817 people have returned to the state," the statement said in Bangalore.
Efforts were on to rescue 517 more people from the state, it said.
The state government has sent its six-seater helicopter to Uttarakhand to help in the rescue operation.
State Information and Infrastructure Minister Santosh Lad, a three-member official team and two teams of two doctors each are also in Uttarakhand to help the stranded people from Karnataka.
The Karnataka government has given Rs.5 crore to the Uttarakhand government for the relief operation and Chief Minister Siddaramaiah has promised that his state was ready to provide more help.