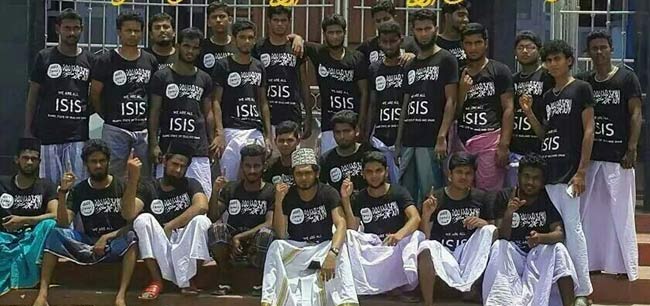 Ramanathapuram:
Two young men have been arrested in Ramanthapuram district of Tamil Nadu after a photograph of a group of people posing in T-shirts with the emblem of the Sunni militant group ISIS went viral on social media.
The two men, Abdul Rahman and Rilvan, have been charged with abetting insurgent activity and criminal conspiracy for ordering and distributing the T-shirts. The ISIS or the Islamic State of Iraq and Syria is a breakaway group of the Al Qaeda, which has captured large swathes of Iraq and Syria and have declared a Muslim "caliphate".
"Though ISIS is not a banned organisation, it is an insurgent group fighting against governments abroad. Both these men are active supporters of the ISIS and were seeking the support of others. They celebrated the cause of the ISIS by distributing T-shirts with the insurgent group's emblem," a senior police officer told NDTV.
But friends of the men arrested insist they have no links with the ISIS. They claimed that the T-shirts were ordered only to celebrate the safe release of 46 Indian nurses held by the ISIS in the conflict zone in Iraq last month.
The group photograph that led to the arrests was posted on Facebook about a week ago, just after Eid. In it, 26 men, including the two arrested, posed in the ISIS T-shirts near a mosque in Thondi, a small town in the area.
24-year-old Abdul Rahman, the police alleged, placed an order for 100 such T-shirts with a firm in Tirupur, through Rilvan. The police interrogated all the men in the photograph and said 24 were let off as they were found to be people who "collected the T-shirts in good faith." Some of them had paid Rs 250 for a T-shirt, the police said.
Police said the photo was posted from abroad. They said Abdul Rahman frequently traveled to Thailand and Singapore on a tourist visa for business.
Four young men from Mumbai are believed to have joined the ISIS recently and the Maharashtra police have said they suspect there could be more such cases.