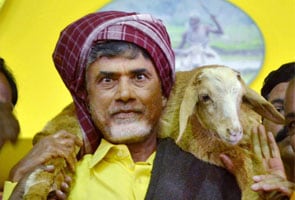 Hyderabad:
The Telugu Desam Party (TDP) began its 'Mahanadu' or annual convention in Hyderabad on Monday with party chief N. Chandrababu Naidu asking the cadre to gear up for next year's elections.
In his inaugural address, Mr Naidu asked the party leaders and workers to give suggestions for an action plan to bring the party back to power.
Reiterating his slew of promises for various sections of people, Mr Naidu exuded confidence that the TDP would return to power in the state and would also play a key role at the centre, where he believes a third front would form the next government.
Mr Naidu, who was chief minister from 1995 to 2004, promised that the TDP would bring the state back on the path of development, make agriculture profitable, waive all loans of farmers, close down all 'belt shops' or the illegal outlets of liquor.
Mr Naidu claimed that people were fed up with nine-year-long "inefficient" and "corrupt" rule of the Congress. He described the YSR Congress as "jail party", in an obvious reference to its leader Y.S. Jaganmohan Reddy, who is in jail for the past year in an illegal assets case.
Terming the Telangana Rashtra Samithi (TRS) as "collection party", the former chief minister said though the TDP had made its stand clear on Telangana issue in 2008 and the TRS was deliberately spreading falsehood to mislead people.
About 15,000 party leaders from across the state are participating in the two-day annual convention which coincides with the birth anniversary of party founder N.T. Rama Rao (May 28).
The 'Mahanadu' assumed significance as it is the last annual convention before next year's elections to state assembly and Lok Sabha.
Mr Naidu's son N. Lokesh, who is likely to get a key responsibility in the party, was the centre of attraction.
The TDP chief's brother-in-law and Lokesh's father-in-law actor N. Balakrishna also attended the inaugural session.
Mr Naidu's other brother-in-law and TDP politburo member N. Harikrishna was present at the inauguration too for some time. He had walked out of 'Mahanadu' last year to express his unhappiness over Mr Naidu's attempts to project Mr Lokesh as his successor.
Setting the tone for the deliberations, Mr Naidu accused the Congress of undoing whatever good work he had done in the past for the development of the state.
He said Y.S. Rajasekhara Reddy and his son Jaganmohan Reddy looted public wealth. "The CBI investigations have proved this," he said.
Mr Naidu also targeted Chief Minister N. Kiran Kumar Reddy, saying he was shielding the ministers involved in corruption during Rajasekhara Reddy's rule.