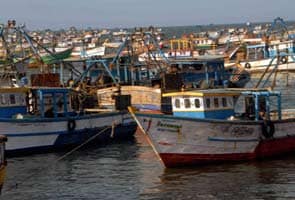 New Delhi:
India has told Sri Lanka to free 53 Indian fishermen from Tamil Nadu at the earliest. Chief Minister J Jayalalithaa has written to the Prime Minister, asking him to summon the Sri Lankan envoy. "Let Sri Lanka not be emboldened by your silence," she wrote.
Sri Lanka's Deputy High Commissioner was summoned today by the Ministry of External Affairs and told to treat the arrested men "in a humane manner."
Syed Akbaruddin, spokesperson for the External Affairs Ministry, said that Sri Lankan authorities arrested 19 fishermen on Wednesday and another 34 on Thursday for allegedly fishing in Sri Lanka's waters.
He said the first lot of 19 had been taken to Talaimannar in Sri Lanka's northwest, and the Indian consul in Jaffna was trying to gain access to them.
"We are trying to meet the Sri Lankan authorities regarding the other 34 too," he added.
Fishermen from both countries often stray into each other's territory as both countries are divided by a small strip of sea.