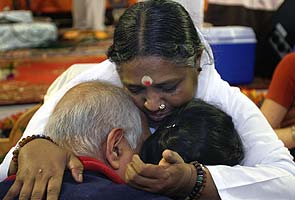 Kollam:
Koichi Kanematsu was doing his bit for the Missionaries of Charity in Kolkata when a chance meeting with India's hugging saint 'Amma' made him give up an easy life in Japan and embrace spirituality for good.
Within months of that encounter in 2000, the now 43-year-old moved into this sprawling ashram of Mata Amritanandamayi Devi or 'Amma' on the Kerala coast that hosts scores of foreigners looking for spirituality in India.
"In Japan we get all comforts," Kanematsu explained to IANS. "Japan is very clean and we have good homes. We have cars and our material needs are met. But I always knew something was missing.
"Today I have found joy in doing 'seva' (service), I have got a new meaning to life," says the Japanese whose spiritual nom de guerre is Vivek and who also speaks Hindi, Marathi, Bengali and English.
Unlike Kanematsu, most of the other foreigners who are devotees of Amma - a rare Indian saint who has addressed the UN Alliance of Civilisations - are mainly from the West, including Australia, Canada, the US and Europe.
Aidan Mousley of Manchester explains why.
"The connection with God has been lost in the West," says the 27-year-old who has lived in Amma's ashram since 2006. "Maybe that is why so many Westerners come to India. This connect with God is alive only in India."
Most Westerners IANS spoke to ahead of Amma's 60th birthday added that they were fascinated by the evolution of a young girl from a poor fisherman's family here to a spiritual saint with a mammoth following.
Each visit by Amma to the West earns her more followers.
"There are some foreigners who have lived here for decades," revealed Dante Sawyer of
New York who came here at age 28 and is now 40 years old. "During Christmas, Amma's ashram hosts 1,500-2,000 foreigners."
At any other day of the year, one can find some 700 foreigners. Indian spirituality, they say, has given them peace and contentment.
Sawyer, known by his Indian name Sachin, admits that he practically knew nothing about India - "except snake charmers and Mahatma Gandhi" - when he saw positive changes in a cousin after the latter met Amma in the US.
Today, the American has gone deep into Hindu religion including the Upanishad and Shastras.
"Amma is a catalyst who can awaken spirituality in people," Sawyer told IANS. "She is truly an international phenomenon. I have never seen anyone like her."
A dentist from Spain, Marta Gonzalez, 32, was attracted to Amma after her initial brush with Yoga, India's greatest gift to the world.
"I was simply curious when I first saw Amma in Barcelona five years ago," said Gonzalez, who is visiting India for the first time. In no time, she became a devotee too.
None of the foreigners seem to have any problem understanding Amma's simple spiritual messages though she - who was forced by poverty to drop out of school at age nine - is at home only in Malayalam. She knows a smattering of Tamil.
Gonzalez's compatriot Susana Lopez was a skeptic when she chanced upon Amma while travelling in India as a tourist.
"But the moment she hugged me, my legs began to shake and I started crying," she recalled. She is now devotedly attached to the woman saint who has hugged over 33 million people as part of her blessings.
At the ashram it is a common sight to see foreigners - men and women - pray at the temple of Goddess Kali or crowd around Amma when she receives thousands of devotees.
In line with Indian spiritual teachings, they do 'seva' - serving food, keeping the ashram clean and helping to re-paint the Kali temple. At other times, many of them silently pray or meditate.