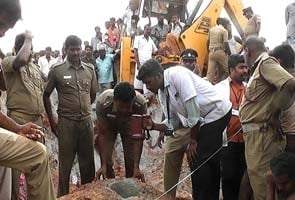 Karur, Tamil Nadu:
A seven-year-old girl, who was rescued from a deep borewell after a near 15-hour-long intense rescue effort in the Karur district in Tamil Nadu on Saturday night, has died in a hospital.
Muthulakshmi, who fell into the improperly closed 900-feet-deep abandoned borewell at Suryapalli village, about 50 kilometres from Karur, around 7 am, remained stuck within a depth of about 12 feet and was pulled out by rescuers around 11 pm in an unconscious state, police said.
She was immediately rushed to the Government Hospital in Karur in an ambulance, kept ready since morning, where she died.
Police said the rescue operations by Fire and Rescue Service personnel and others which began at about 8 am using three earth moving equipment suffered delay due to the rocky terrain.
A pit was dug adjacent to the borewell, which was to be closed on Saturday after it failed to yield water, to rescue the girl, who was stuck at a depth of about 12 feet from the ground level.
District Collector S Jayandhi and other top police and district officials oversaw the operations.
The girl's voice was audible till about 5 pm, they said.
Following similar deaths more than a decade ago, the Tamil Nadu government had ordered the closure of abandoned borewells and ordered drillers to ensure tubewells are properly secured or filled. Local authorities were tasked with monitoring the implementation of these orders. Laxity in implementing these measures has been highlighted by the deaths of two children in borewells over the past two years.