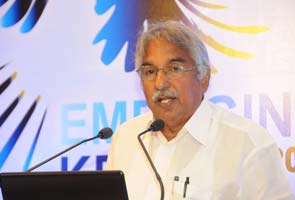 Thiruvananthapuram:
Kerala Pradesh Congress Committee President Ramesh Chennithala is likely to join the Congress-led UDF government headed by Oommen Chandy which has sailed into its third year in office.
According to Congress and UDF sources, the induction of Mr Chennithala in the cabinet with an important portfolio is mainly intended to placate the Nair community outfit, Nair Service Society (NSS).
Though both Mr Chandy and Mr Chennithala have refrained from making any comment on this, Congress and UDF sources indicated that pros and cons of a cabinet reshuffle would be discussed with senior leader and Defence Minister A K Antony.
Mr Antony is reaching Thiruvananthapuram on Saturday afternoon to speak at a Congress rally to be addressed by AICC Vice President Rahul Gandhi, marking the culmination of Mr Chennithala's month-long 'Kerala Yatra' campaign.
Significantly, in recent interactions with journalists, Mr Chennithala has not altogether ruled out the chances of his joining the ministry. To this question, his reply has been that it is for the Congress high command to take a decision in his case as he is occupying the top organisational slot in the state.
Ever since UDF came to power in 2011, Mr Chandy also has said that Mr Chennithala could join the cabinet any time but it is for him (Chennithala) and the party high command to decide.
A cabinet berth is already vacant with the resignation of Kerala Congress (B) nominee K B Ganesh Kumar, after he ran into trouble following a family discord. The Congress leaders have clearly indicated that the vacancy left by Mr Kumar will be filled by a Congress nominee.
Influential community outfits, NSS and Sreenarayana Dharma Paripalana Yogam (of Ezhava community) recently stepped up attack on the Chandy government alleging that the interests of the majority community have been neglected by the ministry.
The Chief Minister, however, has refuted the allegation though he has refrained from openly confronting the two outfits. In the event of Mr Chennithala being made a minister, the KPCC presidentship could possibly go to state Assembly speaker G Karthikeyan.
Meanwhile, on his arrival here, Mr Antony said it was for Mr Chandy and Mr Chennithala to decide the question whether there should be a cabinet reshuffle or not.
"I have come here to attend the rally to mark the culmination of KPCC president's Kerala Yatra campaign. Cabinet reshuffle is not in my agenda," Mr Antony told reporters at the airport.
"The questions relating to cabinet reshuffle should be put to the Chief Minister and KPCC president, who are the competent persons to take decisions on that in consultation with the high command," he added.