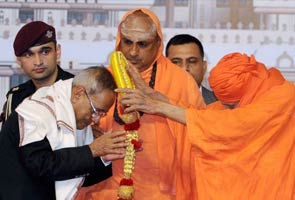 Bangalore:
President Pranab Mukherjee arrived in Bangalore yesterday on a two-day visit to Karnataka to participate in official functions.
"The president, who flew into the city from Mysore, was given a red carpet welcome by state Transport Minister Ramalinga Reddy and Mayor BS Satyanarayana. He also received a guard of honour from the Indian Air Force (IAF) warriors at the HAL airport," an official told IANS.
This is the first visit of Mr Mukherjee to Bangalore after he became president in August 2012, though he visited Belgaum in the northern region of the state in October last year to inaugurate the new legislative building Suvarna Soudha in the border city, about 500 kilometres from Bangalore.
Late afternoon, Mr Mukherjee unveiled the new building of the JSS Hospital at Mysore, about 150 kilometres from Bangalore, and addressed the gathering on the occasion.
Governor HR Bhardwaj and Chief Minister Siddaramaiah accompanied Mr Mukherjee from Mysore, as they had also participated in the hospital function.
"Later, the president released 'A Cultural Odyssey of Karnataka', a coffee-table book brought by Raj Bhavan, containing rich information on places, personalities and cuisine of the state with pictures," the official said.
Mr Mukherjee was also treated to Carnatic music by the state's noted vocalist RK Padmanabha and Hindustani classical music by Ustad Faiyaz Khan at the governor's official residence in the city.
"The governor hosted a banquet for the president at Raj Bhavan, where the chief minister, some Cabinet ministers and other dignitaries were present," the official added.
On the second day of his visit, the president will participate on Tuesday in the golden jubilee celebrations of Sainik School at Bijapur in the northern region of the state, about 510 kilometres from Bangalore.
The president will leave for Chennai later in the day via Belgaum.