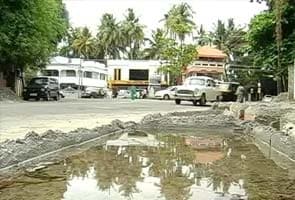 Thiruvananthapuram:
The timely monsoon has brought relief for the people of Kerala from scorching summer heat. But it is also become a reason of worry for the people of state.
There has been a sharp increase in the cases of viral fever and dengue since the onset of the monsoon. Since January, more than nine lakh cases of fever have been reported in Kerala with over 2500 confirmed cases of dengue; nine people have lost lives due to dengue and four due to other viral infections.
"With monsoon, the threat from these diseases will only increase along with other infections due to water-logging, inefficient garbage disposal and drainage systems," said Dr Gopinath Menon, KIMS Hospital, Thiruvananthapuram.
Dr Menon adds that though there is an increase in number of dengue cases in last two years, the last two months have been particularly bad. KIMS itself has been getting nearly 150 fever cases every day, of which 50% are suspected dengue cases, he says.
And to add to the misery of the people of Thiruvananthapuram, city's only garbage disposal plant has been shut down for more than a year. The war of words between LDF-led municipal corporation and UDF-led state government has been continuing without any solution for the common man.
Thiruvananthapuram's Mayor K Chandrika has said that the administration is doing what it can. A task force has been set up for clean-up operations, fogging etc. There is a 'result-oriented' effort, the Mayor claims.