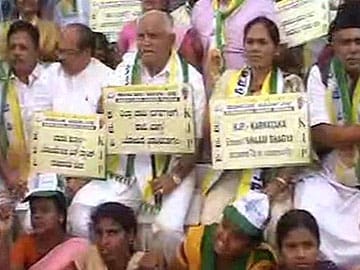 Bangalore:
A scheme to give Rs 50,000 in cash as a 'wedding gift' to poor Muslims girls has landed Karnataka's Congress government in trouble.
The 'Bidai (farewell) scheme', announced months ahead of the national election due by May, is meant to help girls from families who earn Rs 1.5 lakh a year or less, at a cost of at least 10 crore to the government.
The Opposition has accused the government of blatant vote-bank politics and said the scheme must be extended to all poor families, not just one community.
Former Karnataka chief minister BS Yeddyurappa is among the opposition protesters who staged a sit-in against the scheme in Bangalore today.
Accusing the government of "intentionally causing disharmony in the minority community", Mr Yeddyurappa said, "I am protesting because I want all sections to get justice and welfare."
Mr Yeddyurappa quit the BJP in a huff last year to form his own outfit. In May this year, his party failed to make a mark in state polls but was seen to have spoiled the chances of the BJP, whose only government in south India crumbled leading to the resurrection of the Congress after a long hiatus.
Protests against the "Bidai scheme" brought the former Chief Minister back to the spotlight as he sat with scores of protesters in Bangalore, shouting slogans.
The BJP is also on his side. "The Congress is taking the nation to disastrous consequences. The party wants to divide the country and indulge in vote bank politics. It should immediately stop pursuing this criminal agenda and treat all citizens equally," said BJP leader Captain Abhimanyu.
State Chief Minister Siddaramaiah said the money for the scheme, expected to roll out next year, would come from the budget for minority welfare programmes.