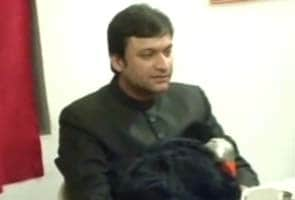 Adilabad, Andhra Pradesh:
Majlis-e-Ittehadul-Muslimeen (MIM) legislator Akbaruddin Owaisi, who was earlier granted bail in alleged hate speech cases, on Tuesday appeared before a court at Nirmal town in Adilabad district.
The magistrate posted the next hearing in the case for March 5.
While granting him bail last week, the court had asked him to appear before it on Tuesday.
Akbaruddin, the MIM floor leader in the state Assembly, has been facing charges of sedition and waging war against the nation among others, under relevant sections of the Indian Penal Code (IPC) for his "hate speech" in two different courts in Adilabad and Nizamabad districts.
He was released on bail on February 16 after the two courts granted him bail.
Police had booked suo moto cases at Nirmal in Adilabad and Nizamabad districts against the legislator after he allegedly used inflammatory and derogatory language against a community during his public speeches in December last year.
Akbaruddin was arrested by the Nirmal police from Gandhi Hospital in Hyderabad on January 8 and was lodged in Adilabad District Jail since January 9.
Police officials in Nirmal and Nizamabad have already tested Akbaruddin's voice and taken samples to match it with his voice on the videotapes of his alleged hate speeches, delivered at Nizamabad and Nirmal in December last year.
Voice samples in both the cases have been sent to the Central Forensic Science Laboratory (CFSL), Chandigarh for examination.