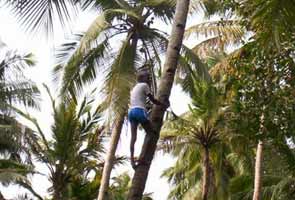 Thiruvananthapuram:
Those who pluck coconuts are much sought after in Kerala. And they are now acting pricey.
The coconut pluckers charge an exorbitant rate of Rs.75 per tree, especially in cities. Yet they are much in demand. "It has become impossible to get a coconut plucker to come on time which is around 45 days when the coconuts have to plucked.
"We have to wait for the person at the junction where he frequents and when he finally arrives, it is a fight to finish to take him from other people who are also there to take him away," said Krishnan Kutty, a retired engineer in the capital city who has four coconut trees at his home.
Coconut farming in Kerala is spread over 820,000 hectares. The state contributes 42.4 percent of the total production of coconuts in the country.
In the year 2011-12, of the 14,006 million nuts produced in the country, Kerala accounted for 5,941 million nuts.
"I have been in this profession for the past four decades and, mind you, it's only in the last few years that our stock has increased because this has become a dying profession. I am 67 and in a day I cannot climb more than 10 trees," said Manikuttan, a coconut climber in the commercial capital of Kochi.
The price of a coconut today varies between Rs.8 and Rs.10. The average yield in cities is around 8 to 10 coconuts per tree and most households require a minimum of one coconut a day for cooking purposes.
"...let us also enjoy the VIP status. See coconut climbing is a tough job and we get exhausted soon. So even the fittest climber can climb around 25 to 30 trees in day," said Kozhikode-based Xavier, a coconut plucker who has been in the business for three decades.
Thanks to technology, a coconut climbing machine has now come as a help.
"I am the manager of a rubber plantation and in the past two years, I have employed people who are not the traditional coconut pluckers, but who have taken this as a profession by using a coconut climbing machine. They charge around Rs.50 a tree. Since they are not professionals, a lot of time is taken.
"...I have been instructed by the owners to see that only trees that have a minimum of six or more ripe coconuts are plucked; (otherwise) it would end in loss for the owners," said Thomas Jacob in Kottayam.
Kerala has 2.5 million migrant labourers and coconut tree owners fervently hope that they take to plucking coconuts to tide over the problem.