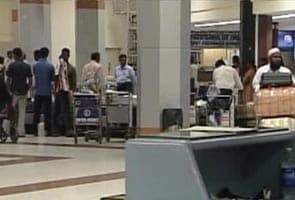 Chennai:
The Tamil Nadu government today ordered a probe by the Directorate General of Civil Aviation into the fire incident at Chennai airport's Air Traffic Control room early today.
The fire was caused due to malfunctioning of batteries, Airport Director HS Suresh said in Chennai.
The battery bank area of the ATC tower was engulfed in fire following an explosion in the UPS (uninterruptible power supply) system of the battery bank in the technical equipment room that supplies power to advance surface movement guidance and control system at around 2.20 am. But there were no casualties.
"An enquiry has been ordered by Ministry of Civil Aviation. DGCA has been directed to conduct the enquiry to identify the cause of the incident and suggest remedial measures and submit a report at the earliest," an official statement issued in New Delhi said.
Flight operations were affected for about seven hours and the ATC system could be fully restored only around 9 am. Five international flights arriving at the Chennai airport, between 2.30 am and 5 am, had to be diverted to Bangalore and Hyderabad.
The flames were noticed by the maintenance personnel on duty in the technical equipment room on the third floor of the Air Traffic Services (ATS) complex.
The fire control officials on duty at ATS complex tried to extinguish the fire. The fire was brought under control by the Airport Fire services personnel at around 2:45 am after five fire tenders were pressed into service.
As a preventive measure, power supply and air conditioning was switched off as technical and area control centres were engulfed in thick smoke.
It was restored at around 3 am, after the smoke got cleared. There were no damage to the equipment and the system, the statement said.