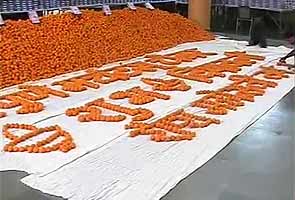 Pune::
A team of 600 people are working round the clock in Pune to spread the sweetness of Diwali. At a huge godown in the market yard area, officer bearers led by the main organiser, Rajesh Shah of the Pune Merchants Chamber is supervising all the arrangements.
In its 25th year, the chamber has embarked on an ambitious target - making 2 lakh fifty thousand kilos of laddoos and chivda, snacks which are very common during Diwali in Maharashtrian homes. The tradition started 25 years ago with just 5000 kilos of laddoos.
"Last year, we had made 2.01 lakh kilos of laddoos and chivda. This year we have made 2.5 lakh kilos. It's going to be a record. We have applied for in the Guinness Book,'' says a proud Mr Shah, standing near a heap of freshly made laddoos.
The chamber makes these items on no-profit-no-loss basis. The idea is to ensure that the sweets reach all. The laddoos which otherwise cost Rs 150 to Rs 200 a kilo in the market are sold at just Rs 80.
"Our idea is not to generate profit; we look at this as a social responsibility,'' explains Mr Shah, who himself monitors all the preparations.
The massive effort requires a team of 150 cooks, over 100 supervisors and 300 women workers work 24 hours for nearly two weeks.
Vijay gaur, the head cook from Rajasthan, has been associated with the chamber's initiative since the beginning. "Just because we are selling cheap doesn't mean we compromise on quality,'' says the 6-feet-tall Mr Gaur as he gives instructions to the supervisors.
"We get all the items from the shops of the traders, who are members of the chamber. They sell us at absolutely nil profit,'' adds Mr Shah.
The chamber sets up six stalls in the city, where people stand in long queues to get hold of their box of laddoos and chivda. Afterall, every household wants to celebrate Diwali with all sweetness, despite inflation. This is an initiative that perhaps trader bodies across the country should replicate.