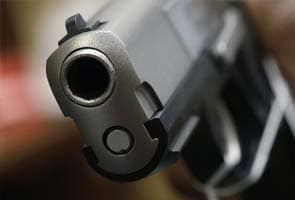 Pune:
An autorickshaw driver who could not resist the desire to handle a revolver landed in hospital after he accidentally fired it and injured himself. The police said the firearm was illegal and the injured man, identified as Sachin Dnyaneshwar Jarande (35), was drunk. They said the weapon belonged to Kunal Suryavanshi (23), a friend of the auto driver.
The incident was one more case of irresponsible handling of firearms in recent days, coming just two weeks after a policeman was injured when a colleague of his was casually showing him a pistol. Jarande was playing with the country-made revolver of his friend in an inebriated state on Sunday night when he injured himself above his right thigh. He was admitted to Rao Hospital, a private healthcare facility in Bibvevadi.
Sources revealed that Suryavanshi had procured the illegal firearm because he had been threatened by some people against whom he had testified in court. On Sunday night, Jarande, Suryavanshi and another person had gathered for a drinking session. When Suryavanshi took out his weapon to show it to his friends, curiosity got the better of Jarande and led to the accidental firing.
The Sahakarnagar police booked Jarande and Suyavanshi for negligent handling and illegal possession of a firearm leading to grievous injuries. The police arrested Suryavanshi and produced him in court. He was remanded in police custody for a day. "We are trying to find the source of his (Suryavanshi's) illegal weapon and the motive for the possession of it," Assistant Police Inspector Shashikant Khot said.
The Sahakarnagar police said they would send the bullet for forensic analysis once it was removed from Jarande's body. On October 4, accidental firing of a police weapon had injured Constable Vijay Bhusari. He was saved by a whisker as the bullet from a weapon his colleague Amol Sarde was showing him brushed past his chest and injured him below the collarbone, before hitting the computer on the desk.