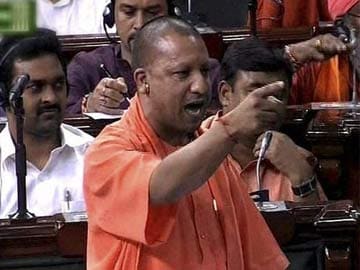 New Delhi:
At an election rally in Uttar Pradesh 2004, then Prime Minister Atal Bihari Vajpayee beckoned a saffron-robed young man to come up to the front row, and was gratified by the loud cheer that greeted the BJP lawmaker.
10 years later, with Narendra Modi as Prime Minister, Yogi Adityanath, now a four-time MP, has been summoned to the forefront of the party's campaign for by-elections in Uttar Pradesh.
Adityanath has been winning the Gorakhpur parliamentary seat in UP since 1998; at 26, he was the youngest MP in the 12th Lok Sabha.
The 42-year-old priest took charge of the Gorakhnath Math in Gorakhpur this month, after the death of the previous head, Mahant Avaidyanath.
He has a Bachelor of Science degree from the Garhwal University in Uttarakhand and lists as his profession, religious missionary and social worker.
This yogi's political profile has also seen a steady rise from his days as a rabble rouser to the ruling party's lead speaker in Parliament in a debate on communal violence.
In 2007, he famously broke down in Parliament while talking about his arrest and his time in the Gorakhpur jail - all of 11 days.
His histrionics and controversies have kept him in the limelight even when the BJP's presence in UP was just 10 MPs.
Now the party has taken 71 of the state's 80 seats and Adityanath has emerged as its star campaigner in a state scarred by communal violence last year in Muzaffarnagar and other parts of western UP.
He is among the loudest campaigners against "Love Jihad" - a term given by rightwing groups to describe what they believe is an Islamist strategy to seduce and convert Hindu women - and has been accused of delivering incendiary speeches in Uttar Pradesh.
In one video he purportedly asks supporters to convert 100 Muslim women through marriage every time a Muslim man marries a Hindu. In another, he said religious riots happen wherever more than 10 percent of the population is Muslim. He says the footage is doctored.
Adityanath's fierce caterwauling stands in stark contrast to his BJP's considered step back from the overtly pro-Hindu agenda of its ideological mentor Rashtriya Swayamsevak Sangh and groups affiliated to it.
To critics of the BJP, Yogi Adityanath represents a vitriolic brand of politics that multi-cultural India should be wary of.