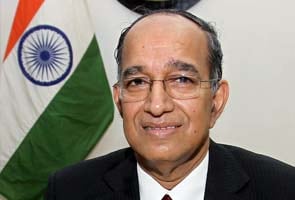 New Delhi:
Veeravalli Sundaram Sampath, who assumed charge as the Chief Election Commissioner (CEC) on Monday, brings with him varied administrative experience spanning four decades.
In his long career as a bureaucrat, he ushered in vital reforms in critical sectors like power and petrochemicals and now hopes to take forward the legacy of electoral reforms he inherited from his predecessor, SY Quraishi.
A 1973-batch IAS officer from Andhra Pradesh cadre, Sampath will preside over the all-important Lok Sabha elections in 2014 as he is expected to remain at the helm of affairs in the Election Commission till 2015, when he would turn 65.
Under the Constitution, an Election Commissioner or the CEC can remain in the saddle either for a six-year term or till 65 years, whichever is earlier. Sampath, born on January 16, 1950, will remain CEC until January 2015.
A low profile and unassuming officer, Sampath, who is the 18th Chief Election Commissioner, has a long association with administrative reforms in the sectors he served first in Andhra Pradesh as a budding bureaucrat, and later at the Centre.
Though his last assignment was as Power Secretary at the Centre, Sampath began his service from Andhra Pradesh, serving first as District Collector from 1975 to 1986 and later, as head of important financial institutions.
The CEC himself said that his stint as the District Collector gave him a strong grounding in public administration and policy implementation at the grassroots level.
Between 1989 and 1989, he held important posts as Managing Director in Apex Co-operative Bank, Handloom Marketing Society and Oil Seeds Federation in the Food and Public Distribution Department, Industries Department and Finance Department.
It was during the middle years of his bureaucratic career that Sampath ushered in reforms in critical sectors while still serving the state.
As Principal Secretary in the Energy Department, he played a crucial role in introducing power sector reforms in Andhra Pradesh, a move which opened up the area for private sector and demonstrated how effective governance and reforms could help the growth, reduce Aggregate Technical and Commercial (AT&C) losses and improve efficiencies.
He then served as Principal Secretary (Finance) before moving to the Centre.
Just before that, he had held crucial posts in Andhra Pradesh between 1990 and 2004, including as Secretary, Agriculture Department and Managing Director of Godavari Fertilizers & Chemicals Limited.
At the Centre, Sampath contributed to the ministries he served beginning from the Ministry of Rural Development. In 2005, he took over as the Director General of the National Institute of Rural Development and soon went on to become Secretary, Chemicals and Petrochemicals, where he was pivotal in conceptualizing and implementing the Petroleum, Chemicals & Petrochemical Investment Regions (PCPIR) policy to help the growth of the petrochemical sector in India by facilitating massive investments in the identified regions.
Later, he served as Secretary, Power Ministry, where he was instrumental in implementing several forward-looking policies to aid the sector. Among them was Restructured-Accelerated Power Development and Reforms Programme (R-APDRP), a mega-package for the renovation and modernization of Indian power utilities to help them improve their performance.
But it was his role in the Election Commission which was to be the most watched due to the sheer nature of electoral polity of India. Sampath joined as Election Commissioner on April 21, 2009 after N Gopalaswami demitted office during the course of general elections in 2009.
On June 11, 2012 he moved further up the ladder to become the CEC, a role that would test his ultimate bureaucratic mettle especially when India gears up for the Lok Sabha polls in 2014.