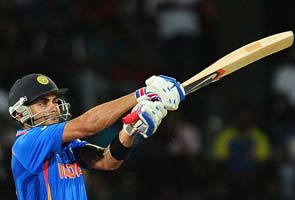 New Delhi:
Finding form in cricket is tough. To maintain form is tougher still. For Virat Kohli though, hard-work and a calm approach makes being consistently brilliant, childishly simple.
With more than 25 per cent runs scored by all Indian batsmen in international cricket this year to his credit and part-time bowling that is furthering his prospects, Kohli rushed past Pakistan on Sunday to help his side to another big win. This after a rare error against Australia which had just 15 against his name.
For Kohli, nothing short of a match-winning performance is decent enough. After all, he does have a brilliant knock of 183 against Pakistan to his credit. With the ICC ODI player of the year in his bag and his recent form scripting scintillating wins for India,has become a job description that he can proudly highlight in his resume. And it has been a regular feature.
This 23-year old cricketer hogged the headlines when he went to play a Ranji match a day after his father had passed away.
To touch great heights you need to have deep roots. That is the story of Virat Kohli. His father pushed him into the game cricket but wasn't there when he reached his prime.
The Delhi boy announced himself as India's gen-next, leading India to the under-19 World Cup in 2008.
In his 14th one-dayer for India, half of which he had played as a substitute, Virat fastracked his way to his maiden 100. And his Delhi teammate acknowledged his achievement and gave away his Man of the Match to him.
Consistent success saw Virat get a World Cup call up. And it paid off, as he became the first Indian to score a century on World Cup debut.
In his three and a half year career, Virat has been quite a milestone man. He became the youngest player to lead Delhi in a Ranji game, and also the fastest Indian to get 1000 ODI runs
He's also the only player the Royal Challengers Bangalore retained from their original pool.
In 2011, he was the highest run getter in ODIs, and this year too he's just 5 runs behind Kumar Sangakkara, the leading run getter.
So far he has scored eleven centuries and ten of them have resulted in India wins. In fact he's scored three hundreds in the last four games that he has played.
But it's not just his performances with the bat that have pleased the cricketing world.
After the World Cup win, when Nasser Hussain asked him why he and his teammates carried Sachin Tendulkar on their shoulders, Virat replied: "He has carried us the nation's burden on our shoulders for 21 years. It's time we carried him on our shoulder."
This answer won him many admirers. But it's not just shouldering senior champions; Virat has become quite adept at shouldering the responsibilities of the team when it comes to pacing an innings, a quality that he has displayed in Tests as well. After all, he was the only centurion on India's disastrous tour Down Under.
Virat Kohli's journey to the top has been one, that's filled with hardships. Losing his father at the age of 17, in the middle of a Ranji Trophy match, turned him from a boy to a man, almost overnight.
"It is difficult to suppress such things at such a young age. His father had passed away and he went to play the match. But it was only his willpower. From that very moment he thought positively. From that very moment he became mature. Earlier, he was as bubbly as any kid of that age would be," says his mother.
Vikas Kohli, his brother, believes he couldn't have done what Virat did then. "If I take myself I couldn't have done this."
Virat did it because cricket was his life.