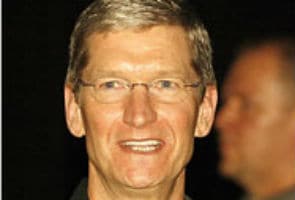 Timothy D. Cook was named chief executive of Apple, the technology company, on Aug. 24, 2011, succeeding Steven P. Jobs, who has been battling cancer. Mr. Cook, previously chief operating officer, had been in charge of day-to-day operations since Mr. Jobs began a medical leave in January, his third.
Mr. Cook had taken over for Mr. Jobs before. His performance during the last leave in 2009 provided a heavy dose of reassurance for nervous investors. He kept the development of products like the iPhone 4 and the iPad on track, increased Macintosh computer sales and improved Apple's financial performance during an economic downturn.
Before joining Apple 13 years ago, Mr. Cook was vice president of corporate materials for Compaq, which was bought by Hewlett-Packard.
On many levels, Mr. Jobs and Mr. Cook are opposites. While Mr. Jobs has been known as mercurial and prone to outbursts, Mr. Cook, who was raised in a small town in Alabama, is polite and soft-spoken. He is often described as a "Southern gentleman." While Mr. Jobs has obsessed over every last detail of Apple's products, Mr. Cook obsesses over the less glamorous minutiae of Apple's operations.
Their complementary skills helped Apple pull off the most remarkable turnaround in American business, and made it the world's most valuable technology company. Now Mr. Cook's challenge is to compensate for the absence of Mr. Jobs -- and his inventiveness, charisma and uncanny ability to predict the future of technology and anticipate the wishes of consumers.
As Mr. Cook delivered results, he earned more respect from Mr. Jobs. More important, because he was focused on areas that Mr. Jobs knew little about, he rarely butted heads with him, former Apple executives said. He eventually took on oversight of Apple's sales and of its Macintosh division. In 2007, he became chief operating officer, and two years later, he stepped in to run Apple when Mr. Jobs went on medical leave for nearly six months. During that time, he improved the company's financial performance in the middle of an economic downturn.
He also took over for Mr. Jobs briefly in 2004, when the chief executive had surgery for pancreatic cancer.
Mr. Cook received a degree in industrial engineering from Auburn University in 1982. In 1999, he told Auburn's alumni magazine that he ended up in the computer industry by accident. At a campus event during his senior year, he was nominated to be the "outstanding engineering graduate." After the meeting, a recruiter from I.B.M. who was present persuaded him to join the computer giant.
At I.B.M., Mr. Cook was soon placed on the "high-potential list," for promising young managers, said Ray Mays, a former boss. In a dozen years at I.B.M., Mr. Cook quickly rose through the ranks. While at I.B.M., Mr. Cook completed a master's in business administration at Duke.
Mr. Cook left I.B.M. for Intelligent Electronics, an electronics distributor, and in 1997 took a job at Compaq, the computer maker. Six months later, an executive recruiter suggested that he meet Mr. Jobs. Mr. Cook agreed, even though his friends told him he would be crazy to leave Compaq for Apple, which was considered a basket case.
But Mr. Jobs's charisma and salesmanship proved irresistible. "Not more than five minutes into my initial interview with Steve, I wanted to throw caution to the wind and join Apple," Mr. Cook said in 2010 during a commencement speech at Auburn.
At 50, Mr. Cook is single and is known for his serious demeanor. Several former Apple colleagues said he rarely socialized with them. His major passion outside of Apple is Auburn football. Former colleagues also described him as a fitness enthusiast who seems to live on energy bars. He is a hiker and a cyclist, who frequently gets up at 5 a.m. to exercise -- and to begin e-mailing his underlings.