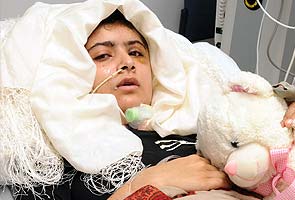 Dera Islmail Khan, Pakistan:
She wanted an education. To become a doctor, though lately people close to her suggested that ambition might have changed to politician. Many young girls in any part of the world share such dreams. But they are not shot in the head and neck for it. Pakistan's Malala Yousafzai, all of 15, was. By Taliban gunmen who sought her out in a bus full of schoolchildren.
Malala survived the attack. She is said to be in stable condition in a UK hospital and her father, Ziauddin Yousafzai, has said she will go back to Pakistan when she recovers. No running away for the small Pashtun girl armed with books who dared to stand up to the oppression of the gun-toting Taliban.
(Read: Letters to Malala - Notes from Indian students)
The Taliban swiftly confirmed that they had shot at Malala for what they called propagating western culture. A Taliban spokesman called the child a "symbol of obscenity." They added that if she survived, they would attempt to kill her again.
So why do the Taliban fear Malala, who is named after a legendary Pashtun warrior? Because the young girl, who belongs to Pakistan's Swat valley, spoke for the right of children, of girls, in a part of the world where many believe that women must neither be seen nor heard. She spoke as an 11-year-old in a fearless voice stronger and louder than people far older than her, advocating for girls' education and speaking against Taliban atrocities.
Malala was born on July 12, 1997 in Mingora in the Swat valley. She has two younger brothers. Her father, who ran a number of schools in the region, is an education activist.
Malala grew up as the Taliban, which had gained a stranglehold in the Swat region, terrorised the people issuing regressive dictats, among them that women must not be given an education. Zaiuddin defiantly continued to teach girls at his schools and young Malala learnt at her father's knee. She shot to fame in 2009 when she wrote an anonymous blog for the BBC detailing a life of fear and oppression, often bewildered at schools being shut and even destroyed, sometime fearful and always strongly critical of the Taliban. Her identity began to get known even as she blogged and the New York Times later featured her in documentaries as did other publications.
But with fame came threat to life. Malala's father was eventually forced to close down his school and the family had to flee the valley for some time. Through turbulent months, Malala's voice did not fade. In October 2011, at the age of 14, she was nominated by Bishop Desmond Tutu for the International Children's Peace Prize. She was featuring on television by now, a celebrity in Pakistan and leader of child activists. Pakistan awarded her its first National Youth Peace Prize in December last year.
She was shot on October 9 this year, while returning after appearing for an examination. Two other girls were injured too. Malala was airlifted to Peshawar where a bullet lodged near her spinal cord was extracted in a three-hour operation. She was later taken to London's Queen Elizabeth Hospital Birmingham where she is recovering now.
On October 25, 16 days after she was shot, Malala spoke on the phone to her father and asked for books. She also vowed that she would be back in Pakistan soon. Taliban threats notwithstanding.