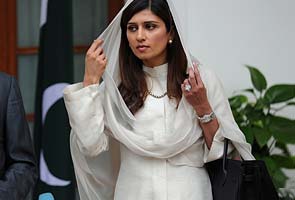 Hina Rabbani Khar seems to have it all. She is an important political leader in a country where few women have risen, she belongs to one of the least developed parts of Pakistan but has had access to privileged education, she is young and exceptionally good looking, she was born to wealth, married a rich man and has two daughters.
The jury is still out on whether a seemingly inexhaustible collection of designer handbags, expensive, oversized sunglasses and priceless, oversized pearls adds to her persona or then detracts from the gravitas that Pakistan's Foreign Minister is expected to have.
That debate however has paled before what Hina Rabbani Khar is having to deal with right now. Mrs Khar can politically ill-afford recent rumours gone viral; they link her romantically with Bilawal Bhutto Zardari, the torchbearer of the powerful Bhutto-Zardari family, the son of Pakistan's President and co-chairman of the ruling Pakistan Peoples Party. He is 23, 11 years her junior.
Rumour and tabloids have it that an incensed Mr Zardari is making frantic attempts to end the alleged relationship and is reportedly aided in his efforts by Mrs Khar's millionaire husband Firoze Gulzar. There is much gossip that the Pakistan Foreign Minster's political career could be over at age 34.
Hina got a B.Sc (Hons) degree in Economics from the Lahore University of Management Sciences and a Master's degree in hospitality management from the University of Massachusetts Amherst in the US before turning businesswoman. A venture in orchids was short-lived and Ms Khar now is a co-owner of a tony restaurant in Lahore called the Polo Lounge. Her husband is a textile baron who she met at university.
Hina was born in Multan in November 1977 in a feudal, political family. She is one of eight siblings. Her father is veteran Pakistan politician Ghulam Noor Rabbani Khar; her uncle, the more famous Ghulam Mustafa Khar who was once Governor of Punjab and with whom Hina did not share warm ties.
She stepped into politics at the young age of 24, her advent made necessary by circumstances. In 2002, her landowner father could not contest elections because a new law required all candidates to hold university degrees. He didn't have one, but daughter Hina did and she was elected as the MP from Muzaffarnagar II. By 2005, she was a junior minister. In 2009, Rabbani Khar, as Minister of State for Finance and Economic Affairs Division, became the first woman ever to present Pakistan's Finance Budget.
In February 2011, Ms Khar became junior minister for Foreign Affairs and in July last year, she took over as the Federal Minister, the youngest and first woman foreign minister in Pakistan. While appointing her, Mr Zardari said it symbolized his government's commitment to bringing women into the mainstream of national life.
Soon after her appointment, Ms Khar visited India and dazzled people as much with her refined oratory as her with her appearance. Much newsprint was devoted to her partiality for Birkin bags and pearls, her views on Indo-Pak ties somewhat lost in the bargain.