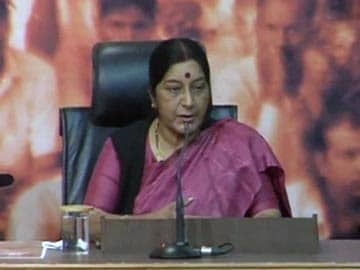 New Delhi:
Sushma Swaraj became the third minister to take oath on Monday. She has been made India's Foreign Minister.
After Pramod Mahajan's tragic death in 2006, Ms Swaraj emerged as the most prominent face among the Gen Next leaders of the BJP. She grew in stature after the BJP, contesting the 2009 Lok Sabha polls under the stewardship of LK Advani, failed to dislodge the Congress-led UPA government from the Centre. Mr Advani, 86, had to make way for Ms Swaraj, 62, as Leader of the Opposition in the Lok Sabha. Being declared as the BJP's prime ministerial candidate for the 2014 general election seemed the next logical step.
But the third consecutive victory posted by Narendra Modi, who's only a year older than Ms Swaraj, in Gujarat in December, 2012 forced a change in the script. The Rashtriya Swayamsevak Sangh (RSS), the BJP's ideological mentor, concluded that only the Gujarat chief minister could charge up the Sangh parivar cadre, and spearhead their campaign across the country.
In June, 2012, BJP president Rajnath Singh, with the active backing of the RSS, declared Mr Modi as the party's campaign committee chief, a post which was seen as a prelude to the Gujarat chief minister being declared as the presumptive prime minister. Ms Swaraj, along with BJP veterans such as Advani and Murli Manohar Joshi resisted the move, but found themselves isolated.
Ms Swaraj has, since then, been unable to reconcile herself to the dramatically altered situation within the BJP. During her entire campaign for the Lok Sabha election from her Vidisha constituency, she refused to take Mr Modi's name.
Mr Modi has now scripted the BJP's most emphatic victory, having led his party to breach the half-way mark in the Lok Sabha. Together with its allies, the party has a whopping 336 seats in a House with a strength of 543. Mr Modi is not just the toast of his party, but also of the entire nation. Ms Swaraj has no option, but to accept him as her leader.
Ms Swaraj has a wealth of ministerial experience. Way back in 1977, she became the youngest cabinet minister of a state. She has been the chief minister of Delhi, and held the portfolios of information and broadcasting, and health in the Atal Bihari Vajpayee government.