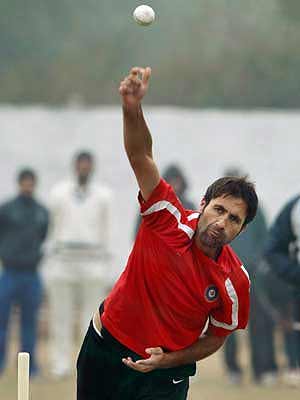 Srinagar/New Delhi:
Parvez Ghulam Rasool Zargar has made history by becoming the first Jammu and Kashmir cricketer to be selected for the national side. The off-spinner all-rounder will be part of a young 15-man squad that will tour Zimbabwe to play five ODI matches from July 24.
Cricket runs in Rasool's veins; his father and brother too have played for the state. But Parvez, born on February 13, 1989 in Bijbehara of Anantnag district in the militancy-torn valley, was destined for bigger things. And he showed the signs early.
Rasool made his first-class debut for J&K in the 2008-09 season, has played 17 first-class matches, scoring 1003 runs and taking 46 wickets. It was in the last season however that things really began to happen. He performed outstandingly for J&K in the 2012-13 Ranji Trophy, ending the season as the state's top scorer and highest wicket-taker.
In the seven matches that he played, Rasool scored 594 runs at an average of 54, with two centuries, and took 33 wickets to finish as the third-highest wicket-taker among spinners in the prestigious tournament.
On January 6 this year, he was selected for the India 'A' side to play England in a warm-up ODI, the first cricketer from the valley to make it. It was a curtailed match, which meant that Rasool did not get much of an opportunity to prove himself. His three overs cost 16 runs; but he did get England's James Tredwell run-out as India 'A' won the match.
A day before his 24th birthday, Rasool finally got a chance to show his mettle. Playing against the visiting Australians for the Board Prseident's XI, Rasool returned impressive figures of 7/45 on February 12, 2013. He also scored a swashbuckling 36. He made headlines.
But this was not the first time young Parvez Rasool had made headlines. In October 2009, while playing for J&K in an under-22 tournament in Bangalore, Rasool and team-mate Mehrajuddin were detained by the Karnataka Police after traces of explosives were allegedly found in their kit bags. They were released after a few days for lack of evidence.
J&K Chief Minister Omar Abdullah had then spoken strongly in support of the players saying they had been made "scapegoats" and had been "arrested mistakenly".
Rasool said in interviews later that he did not allow the incident to impact his game. "It was a not a great thing to happen, whether by any mistake or an error in the machine or whatever but I didn't spend too much time thinking over it," Rasool said after being released.
This year, Rasool also earned his Indian Premier League cap, after being picked by the Pune Warriors to play season 6. There were reports then that the all-rounder had many "offers" but chose Pune since they had approached him first.
Rasool also sticks to what he believes in. The debutant refused to sport the logo of a liquor brand on his Pune Warriors shirt citing religious sentiments.
Though the off-spinner got to play just two games in what was a disastrous season for Pune, he scalped the prized Jacques Kallis in his first match against the Kolkata Knight Riders.