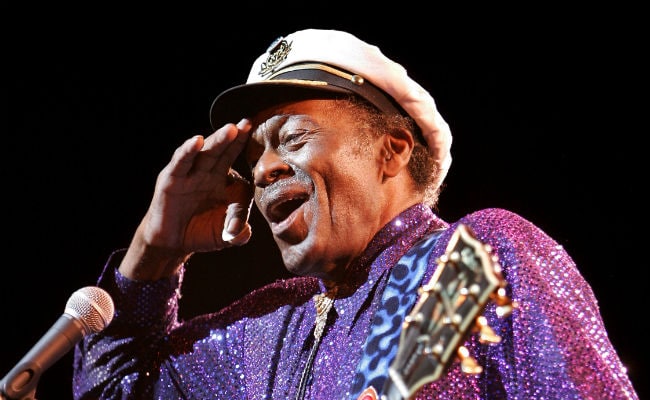 Highlights
He is known for tracks such as Roll Over Beethoven, You Never Can Tell
Chuck Berry was inducted into the Rock and Roll of Fame in 1986
The Berry family has requested privacy during the time of bereavement
Washington:
Rock and roll musician Chuck Berry died at the age of 90 on Saturday at St Charles County in his home state of Missouri in US, the police said.
"The St Charles County Police Department sadly confirms the death of Charles Edward Anderson Berry Sr, better known as legendary musician Chuck Berry," the department said, in a statement, on social media platform Facebook.
The police responded to a medical emergency at a home in the county, near the city of St Louis. Responders found an unresponsive Berry and repeated attempts to revive him failed, the statement said. He was declared dead at 1.26 pm.
The Berry family has requested privacy during the time of bereavement, the statement said.
Chuck Berry is a legendary African-American rock and roll guitarist and singer, who is known for his hit tracks such as 'Roll Over Beethoven', 'You Never Can Tell', 'Sweet Little Sixteen' and 'Johnny B Goode' in the 1950s and 1960s.
'Johnny B Goode' was ranked as the seventh greatest song of all time by Rolling Stone magazine in 2010. It was so influential that the US space program chose it to represent rock music for potential extra-terrestrial listeners on the Voyager spacecraft.
However, Berry also served a year-and-a-half in prison after he was convicted taking a 14-year-old girl across state lines for "immoral purposes" in 1959.
The musician received the Grammy Lifetime Achievement Award in 1984 and was among the Kennedy Center Honourees in 2000. In 1986, he was inducted into the prestigious Rock and Roll Hall of Fame.
Berry, after celebrating his 90th birthday last year, announced that he had recorded his first studio album in 38 years - which will be released later this year.
Many musicians and artists, who regard Berry as an influence, paid their respects to the late musician on Twitter.
Former Beatles' drummer Ringo Starr tweeted, "R.I.P and Peace and love Chuck Berry. Mr Rock 'n' Roll music."
Author Stephen King said, "This breaks my heart, but 90 years old ain't bad for rock and roll. Johnny B Goode forever."
Rock band Guns N Roses' guitarist Slash tweeted, "Heartbroken to hear the passing away of Chuck Berry. He was undisputedly the king."