Kumar Vishwas, true to form, waxes poetic as he shares his distress over attempts to thwart his political career from entering what, according to him, is the next logical step - membership of the Rajya Sabha.
"I am a human being. I also have ambitions. I and a huge number of my supporters feel that I should go the the Rajya Sabha where I will be an articulate voice against the BJP and the Congress. I founded the Aam Aadmi Party with Arvind Kejriwal and Manish Sisodia. Yet I have never even had the tea of Delhi Secretariat," he said, offering this as proof that he's forever the bridesmaid, never the bride.
Kumar Vishwas, professor, Hindi poet, mass magnet, had earlier this year given Arvind Kejriwal one of his major crises - there were reports that he nearly pulled off a coup to take charge of the Aam Aadmi Party or AAP, of which he was a founding member in 2012.
The alleged attempt to seize power was not a lone cry for attention. Before that, Kumar Vishwas was regularly forced to deny that despite public displays of a soft spot for the BJP, he was neither interested in joining Prime Minister Narendra Modi's party, nor acting on its behalf by trying to create fissures within AAP.
To pacify him, an AAP leader who went public with the allegations of Kumar Vishwas wanting to replace Arvind Kejriwal as top boss of AAP was suspended, and the satirist poet, who complained that he had no official post in the party, was placed in charge of handling AAP in Rajasthan.
In a long interview with me last night (scroll down for the full audio), Kumar Vishwas said that those within AAP who are determined to bring him down remain powerful. He described them as "cowards who want to get together and assassinate me like Abhimanyu in the Mahabharata."
Among his major complaints is that Amanatullah Khan, who titled him an "RSS agent" and accused him of the attempted coup, has now been reinstated in all posts by the party.
"I called all the three members of the committee which revoked his suspension. All three including Pankaj Mishra, Atishi Marlena and Ashutosh did not even have the courtesy to pick up my phone. Ashutosh called back later and said that it had been done. This is exactly the way the party is being run by cronies and on WhatsApp," he said.
Because of its huge win in Delhi in the 2015 election, AAP is entitled to all three Rajya Sabha seats from Delhi. They will open up in January when the term of the incumbents expires, and Kumar Vishwas says he is entitled to one of the three spots.
He did not directly attack Arvind Kejriwal but was not circumspect about alleging a conspiracy that is now in full bloom to force his exit from AAP. "Let me tell you that I formed AAP at the request of Arvind and Manish (Sisodia) and even if I am thrown out, which is the plan, I will never join any other party, " he proclaimed.
"All I can say is that the party is planning a Prashant Bhushan-Yogendra Yadav Part Two with me. You decide who is insecure about me," he said, referring to Arvind Kejriwal's mega falling out with two senior AAP leaders who have since formed their own party.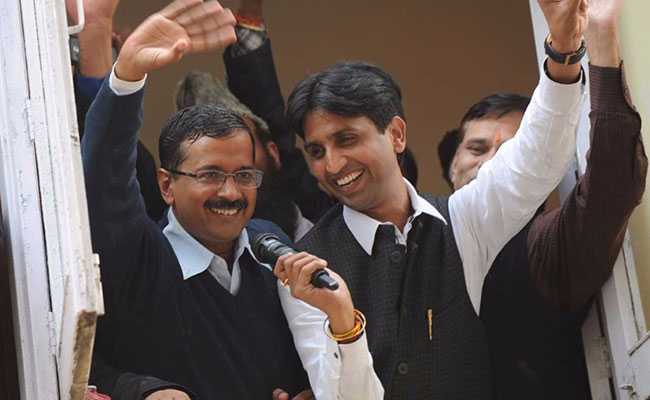 He also says that those who describe him as a diva who believes his fame as a crowd-puller entitles him to prize positions are misinformed. "The coterie against me used to say that he only criticizes, does not work on the ground, so even in May, I said fine, please let me work in Delhi (for the municipal election). I was refused. Then I asked for Punjab, even that was denied. Finally, I was offered Rajasthan and I went there; despite being asked, the central AAP leadership did not once help me." He says despite that, he has helped galvanize the AAP cadre in Rajasthan, scheduled to vote in 2018. "I have created a huge impact," he said of his work in Rajasthan, "I named Vasundhara Raje Scindia, the Chief Minister,
"Tughlukki Rani"
for the draconian ordinance that sought to ban the registering of cases against senior officials and prevent journalists from reporting on these cases, and it went viral."
The top decision-making body of AAP meets next month in Delhi; for the first time, Kumar Vishwas has not been listed among the speakers. That, he says, does not mean he will not be heard. "See, when I created AAP, it was not just meant to be an opposition but an alternative; after losing seven elections in a row, including the Punjab by-election (in Gurdaspur) with a historic low, should I applaud the way the party is being run?"
In May, it took a rushed late-night visit by Arvind Kejriwal to contain Kumar Vishwas' revolt. This time, he appears determined that nothing short of a Rajya Sabha seat will serve as make-good.
A senior AAP leader told me, "If we had won anything, there would have been scoop to hand out some goodies. But, we have some leaders who want to cut down every one to ensure they get the goodies on offer. These three Rajya Sabha seats have caused chaos. In the party, it is called Reservation Against Vacancy or RAC - if you don't cut the reserved tickets, how will you board the Rajya Sabha train?"
The analogy is that three contenders - Kumar Vishwas, Yogendra Yadav and Prashant Bhushan - were sure of getting the three Rajya Sabha seats and thought they had confirmed tickets on the gravy train. Now, others - those without tickets - are angling for the same spots.
"I will go down like Abhimanyu but I will not stop fighting. We all remember Abhimanyu as a brave man and those who killed him as cowards. So will it be in my case".
Not quite what an already beleaguered Arvind Kejriwal wants to hear.
(Swati Chaturvedi is an author and a journalist who has worked with The Indian Express, The Statesman and The Hindustan Times.)
Disclaimer: The opinions expressed within this article are the personal opinions of the author. The facts and opinions appearing in the article do not reflect the views of NDTV and NDTV does not assume any responsibility or liability for the same.
Get Breaking news, live coverage, and Latest News from India and around the world on NDTV.com. Catch all the Live TV action on NDTV 24x7 and NDTV India. Like us on Facebook or follow us on Twitter and Instagram for latest news and live news updates.