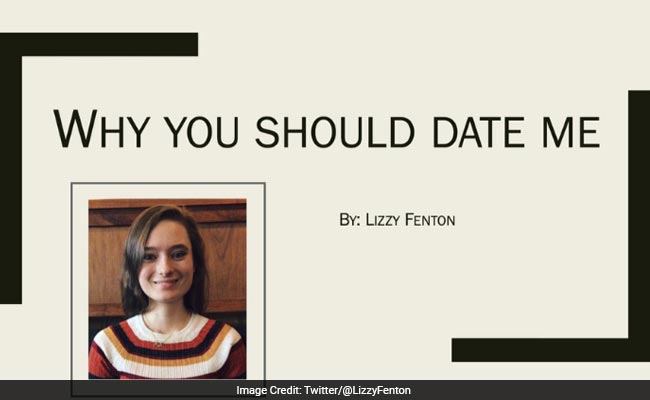 New Delhi:
Here's a love story told in six PowerPoint slides and two tweets. A modern love story, if you will. Lizzy Fenton, a student at the University of Minnesota, shared a PowerPoint presentation she put together, supposedly to convince her crush to go out with her in a tweet on March 28 but it suddenly went viral this week. Titled "Why You Should Date Me," the six-slide presentation isn't like anything you may have seen before. Ever.
"Sick of your family nagging you to get a serious girlfriend? Look no further," reads one slide. Then come some of the reasons why Lizzy would be the perfect girlfriend: "I am a tantalising conversationalist...I am well dressed and look classy at Thanksgiving dinner, family reunions, and other events of the like...I have an edgy yet tasteful sense of humour that will be sure to win the approval of your mother."
The slides offer photographic evidence as well as graphs and charts.
"Still not convinced? Listen to the critics," reads the final slide.
"Wanting to ask her out but she's way out of my league," Lizzy writes, attributing the quote to Hollywood star Channing Tatum. Her mom, her crush's "ex-girlfriend," and even the New York Times weigh in with praise (okay, so she definitely faked that).
I just emailed this powerpoint to my crush Carter do you think it'll work :// pic.twitter.com/xHN1bYSdL6

— Lizzy Fenton (@LizzyFenton) March 27, 2017
And then, an update. Her crush "replies" to the PowerPoint presentation with this curt e-mail: "This is very nice. Please stop contacting me."
Update: pic.twitter.com/be59MGHMRo

— Lizzy Fenton (@LizzyFenton) March 30, 2017
Ouch!
But it seems like her "crush," Carter Blochwitz, is probably in on the joke. Most of the pictures used in Lizzy's slides are from his Instagram page.
And then there's this cryptic reply in the comments section underneath a picture of Lizzy posted by Carter: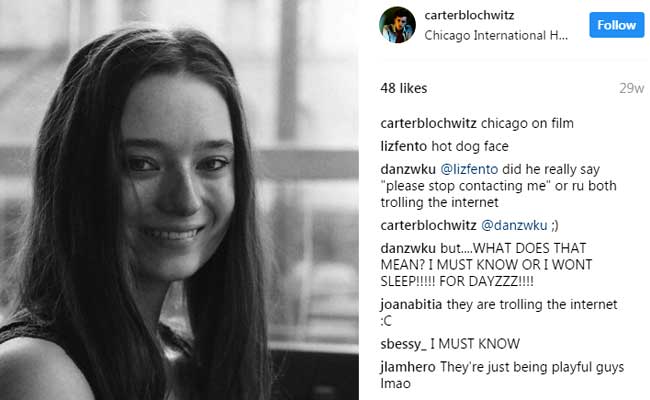 Elaborate prank or not, one thing is clear: Lizzy's PowerPoint skills are on point. Even Microsoft agrees:
@LizzyFenton You've made a pretty solid case. pic.twitter.com/01EsbeNeZq

— Microsoft Office (@Office) March 31, 2017
Click
here for more trending stories
.