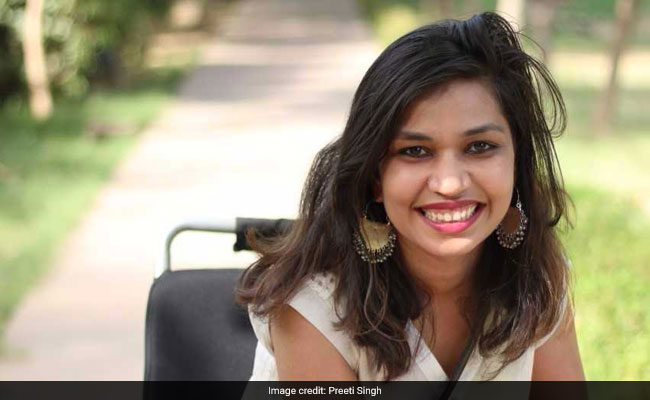 New Delhi:
"I'm not ashamed of my disability. I endure it every day," 24-year-old Preeti Singh tells NDTV. She makes her way around the capital on low-floor DTC buses, uses the Delhi metro and takes cabs almost every other day. But a recent experience with two separate Uber drivers left her "humiliated." She wrote about the discrimination she faced as a woman in a wheelchair on Monday in a Facebook post that has since gone viral. Uber says they are reviewing the matter "internally."
In a lengthy Facebook post addressed to Uber, Ms Singh describes how two separate Uber drivers "created a fuss" as her wheelchair had to be folded and kept in the car next to her.
"It doesn't matter whether I book a sedan or a hatchback, most cabs don't have space in the boot due to CNG cylinders. There are no carriers on top of the cars either," the Delhi-based young professional tells NDTV. The only option she has is to keep her wheelchair in the car.
"Both the drivers weren't happy about keeping the wheelchair in their cars. During my trip back home, I really felt humiliated and insulted when the driver kept saying 'My car's gonna get ruined'," she writes on Facebook. She describes wiping down the car seat with a towel after the trip ended in an attempt to appease the driver.
"I pay for your services, no one's doing any charity then why is it that I still have to feel this way just because I'm a wheelchair user. Always praying that the driver doesn't create a fuss about it. Of course I'm going to go with my wheelchair, nobody asks anyone to keep their legs behind when travelling in a cab, why me?" she asks on Facebook.
Speaking to NDTV, Ms Singh adds she chose to remain quiet after the first incident. "I didn't want to ruin my day," she sighs. Unfortunately, she's used to this kind of reaction. "People are just not sensitised," she says. Which is why when it happened twice in one day, Ms Singh felt compelled to bring it to Uber's attention.
"I have the guts to travel around Delhi. I go out alone all the time," Ms Singh tells NDTV. "But I felt really humiliated this time and didn't want to let it go."
Read Ms Singh's entire Facebook post below:
"Ideally, I want a way to let Uber know I travel with a wheelchair and for them to send me a car with a boot or a carrier. Perhaps they can even have cars with ramps so I don't need any assistance," Ms Singh tells NDTV. "But first," she insists, "people need to be sensitised. Driver training is so important."
"We sensitise all our driver partners to treat all riders equally and without discrimination of any sort... Uber has a zero-tolerance policy towards discrimination of any kind," an Uber spokesperson tells NDTV. "We have been in contact with this rider to offer our support. We are internally reviewing the matter and will take appropriate actions based on the outcome of our review."
While Uber has refunded her for her trips, Ms Singh tells NDTV the purpose of her post isn't to take action against the two drivers, but to get Uber to review its driver training and spark a much-needed conversation about making public spaces more accessible.
Ms Singh's Facebook post comes on a day when
Uber is being sued
by disability rights groups in the United States for "pervasive and ongoing discrimination."Click for more
trending news